How to Master the Art of Time Management and Address Its Problems
It is very important to effectively manage time in all your dealings. Poor time management can lead to devastating consequences especially as regards your level of productivity. This article provides tips on how to deal with time management and time tracking.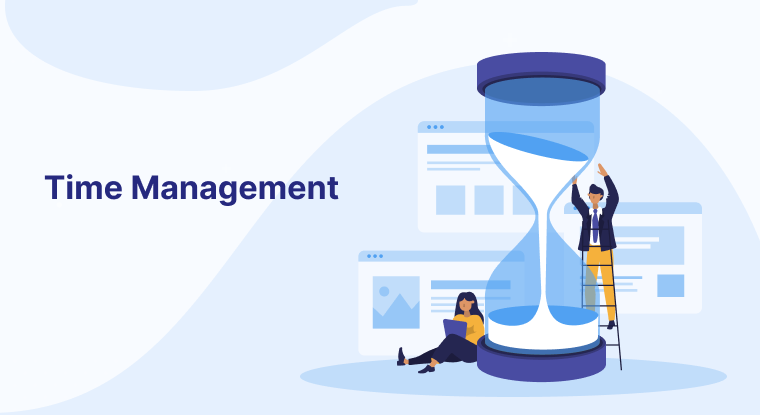 The art of proper time management is what differentiates the most productive person in a society from the least productive. Many people tend to spend so many hours doing one task, forgetting that there are several other things to be done. Cathy Sexton, a Time Management Specialist, clearly captures what lack of proper time management looks like in her words,
" When we are busy we see that we have to be productive when productivity is narrowing down what we need to do."
Time management is very essential for every individual or business. It is the main ingredient to having a great level of productivity in one's dealings. It requires great dedication and commitment.
What is Time Management?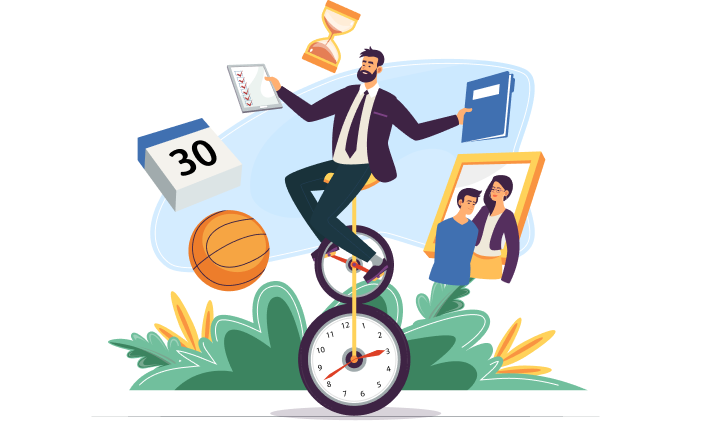 It is the process of planning and controlling how much time is spent on a specific activity. This ultimately helps in properly organizing yourself and planning how to divide your time in such a way that you can accomplish your goals and be very productive.
Many people tend to have poor management skills. This could manifest in some ways such as the wasting of valuable time, inability to manage distractions, inability to concentrate on one task, etc. The results of poor time management are often poor quality of work and an overall decline in productivity.
What are the Benefits of Effective Time Management?
1. It Aids Productivity
The goal of every individual and business owner is to be productive. In the words of Paul J. Meyer, "Productivity is never an accident. it is always the result of a commitment to excellence, intelligent planning, and focused effort." Having good time management skills helps ensure a higher level of productivity. When your goals are clear and well prioritized, it is easier to achieve them one by one. The more tasks are completed, the higher the level of productivity.
2. It Helps Create More Time for You
When you can complete all your tasks at a set period without distractions, you are left with time for you to spend as you please proper time management helps avoid scenarios where you end up spending all your hours on a task with no time left for you to engage in other things like your personal pursuit and hobbies.
3. It Provides More Opportunities
With proper time management, you avoid wasting time on trivial issues and get things done in good time. This means that you will not only end up doing a high-quality job but you will be able to turn it in faster.time management is a requirement that many clients look for. Hence, there is the likelihood that you will continue to be given more opportunities by these impressed clients.
4. Less Stress
When you can manage your time properly, you are free from stressing over tasks and how you're faring. With a proper schedule, you can easily tick items off as you finish so that you don't feel like you're not making any progress.
Having explored some of the numerous benefits of proper time management, it is undeniable that good time management is a game-changer in your level of productivity as an individual as well as employee productivity
Tips to Solve Time Management Problems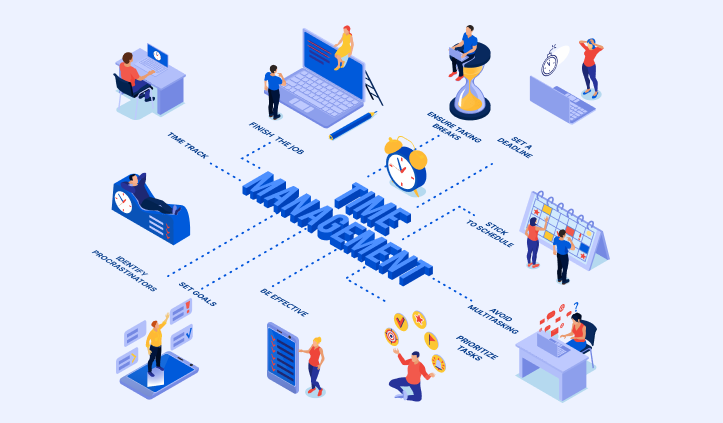 In recognition of the importance of time management, we have provided you with useful tips on how to solve time management problems. They include:
1. Set Goals
Having a clear set-out priority and goal helps you stay focused and motivated. The logic is simple: when you know exactly what you want to achieve, you make time for it and do all that you can to achieve it.
2. Stick to Schedule
Having a schedule is the first step to solving your time management problem. A clear schedule contains all your tasks for the day with a time frame for each task. This helps keep things in a clear perspective and you can always check it for reminders on what tasks have been completed for the day and what's left.
Ready to Conquer Your Time with Clockly? Sign Up 14-day trial
3. Prioritize Tasks
When making your schedule, your tasks must be scheduled in the order of priority. The most important and urgent tasks should be done right away while the less important ones should be kept for later. This helps keep you organized and lets you work on the most important tasks when you're more energized.
4. Identify Procrastinators
A great way to identify time wasters is to look at previous works done and time spent doing them. If you make use of tracking software while working, it's easier to get time tracking reports of time spent on tasks and thus identify which task is time-wasting. This generally helps you schedule your tasks and time allocation properly.
5. Set a Deadline
Having a sense of urgency tends to help you stay more focused and efficient. A great tip to help manage time is to set deadlines for each task. This way, you'll have a constant reminder in your head that you ought to have your work ready at a certain time. It is a great way to avoid distractions. Also, when you have allotted time for each task from the very beginning, you can quickly recognize when you are falling behind and find a quick solution to that either by delegating some tasks or adjusting accordingly.
6. Take Breaks
Good time management doesn't require you to spend all your hours working to achieve your goals. In fact, it involves recognizing the need for breaks and including them in your schedules. When you take breaks, it gives you time to clear your head and feel refreshed so you can shake off that feeling of being burdened with so much work. You could use a break to indulge in certain distractions like social media, provided you are sure that you can easily stop and return to your work after your break.
7. Avoid Multitasking
The truth about multitasking is that you tend to lose focus when you're doing so many things at once and then end up doing nothing at all. Also, time tends to go fast when multitasking only for you to realize you have only done a bit of everything and haven't completed anyone. This is why a schedule is very important. It is best to single task according to your schedule and follow each time allocated for each task. This allows you to be focused and produce high-quality work in due time after which you can move on to the next task.
8. Track Time
Time Tracking is one of the most effective ways to deal with time management problems. It is extremely useful to time track when dealing with tasks whether as a freelancer or as an employee,the concept of time tracking and its benefits is fully explored below: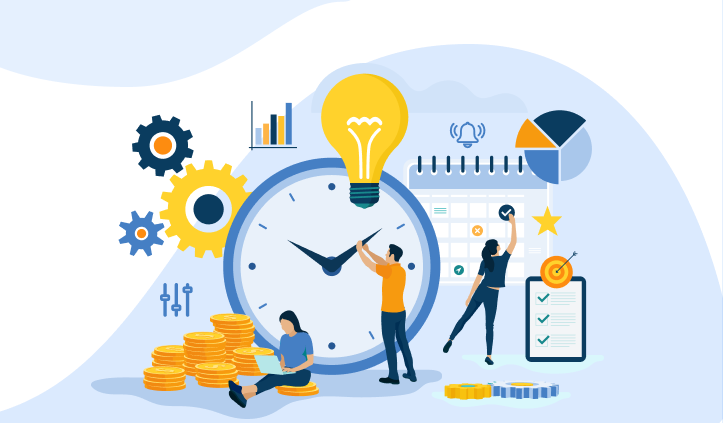 Time tracking is the process of tracking one's time to know the precise time spent on tasks. Having such knowledge enables you to gauge your level of productivity and see areas of improvement. Although, time tracking can be done manually. It is however preferable and more efficient to time track with tracking software as it allows for reliability.
Here are a few benefits of time tracking:
It helps increase your productivity: Tracking software is very helpful with keeping you on track. You are consciously made aware of how much time you are using to spend on a task. This leads to you working faster to accomplish a large number of tasks in a day which essentially leads to an increase in the level of productivity.

It helps in accurately billing clients: Time tracking software is very important if you deal in a business where you have to bill your clients by the hour. with tracking software, you can get an accurate record of your time, enabling you to bill clients for the exact number of hours put into work. Some of these tracking software makes it easier by letting you automatically turn your time into invoices you can send to your client.

It helps you keep the status of tasks: With the right software for tracking time, you can easily see how far you or your team have gone with a task. This helps keep you aware of how much has been accomplished and how many more tasks you have left to do.

It helps analyze your team members: Software for tracking time is very useful when working with a team. It allows you to see how much time a member uses to accomplish their task. this helps you gauge the efficiency of your team members. You can easily identify the team members that are slacking and find ways to improve on them either by assigning them to smaller tasks they can handle faster or by arranging proper training and guidance for them.

It is good for record keeping: Time tracking helps in creating a record of your work. with the best time tracking software, there is a proper record of how much time is spent on a particular task. Some clients are very intentional about their work. they may ask to know why a work took as long as it did in a bid to ensure that the time they are paying for was put into good use. With software for tracking time,you only need to create a report that'll have a proper record of the process involved in the task. Hence, when you can provide them with an accurate and detailed record of time spent on their task, you leave a long-lasting impression of being reliable and efficient.

It increases self-accountability: Time tracking makes you more self-accountable. while using a time tracking software, you can look at your record and measure how efficient you are by how much time you take to finish a task. This enables you to see what tasks you need to improve in to yield more productivity.
Conclusion:
It is very essential to have good time management skills as an individual, student, freelancer, employee, or business owner. Having problems with managing one's time will lead to wasted hours and zero productivity which in the business world translates to zero profitability. In this article, we have highlighted certain time management tips that can help you get better with managing time by paying a lot of attention to time tracking. A great software for tracking time is Clockly by 500apps. It is seamless and easy to use while assuring you its reliability and ability to yield good results. Master the art of time management today as you take time into your own hands with 500 apps.
Discover Why Clockly Stands Out
#1
Get an instant preview of employee activities - timesheet, keystroke & mouse click logging
#2
Monitor in real-time by automatically capturing screenshots of employee's screen
#3
Take control of employee work hours for better project planning
#4
Utilize the project management functionalities to deliver your projects on time
#5
Add unlimited projects and manage all in one place
#6
Customize the screenshots interval and mouse / keyboard activities
#7
Integrate with popular project management tools such as Projectsly
#8
Automate payroll & expense claims with the online time-sheets
#9
Unbelievable pricing - the lowest you will ever find
#10
Everything your business needs - 50 apps, 24/5 support and 99.95% uptime
Join the SaaS Revolution
All-in-One Suite of 50 apps

Unbelievable pricing - ₹999/user

24/5 Chat, Phone and Email Support