Top 11 Time Management Tips from the Industry Experts
Goal setting, organization, delegation, and prioritization are essential time management tips that increase productivity. This article will help you establish firm boundaries, reclaim your time, strategize better for a more appropriate work-life balance.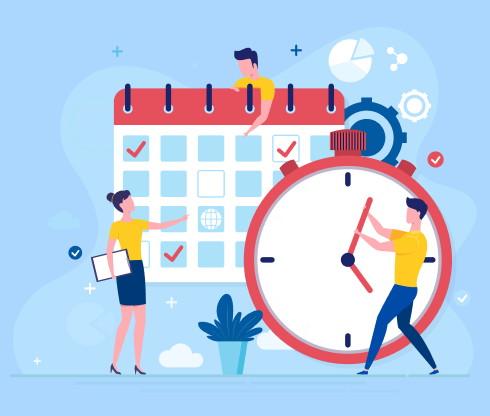 We all want to feel accomplished at work, leave the office after a productive 8 hours on the dot, and head home for some time to ourselves or with our families, stress-free. Is it too much to ask to have our cake and eat it too? The quick answer is NO.
As long as we can manage our time efficiently, the longer answer is that we can get everything done promptly and leave our work at the office. But how? Simple! Effective planning – find a schedule that suits you better. It helps you work with your target and within your schedule to bring about the best version of your routine. With proper planning, you can balance your professional and personal life and still get the best out of your day – it's about being productive with the time you have and not rigorous each-minute planning.
According to the BLS, an average American spends 7.6 hours per day working, 2.5 on household activities, and 8.6 sleeping, if they're lucky. If they have children under the age of 6, they spend another 2 hours on childcare. That, coupled with the 18.7 hours for work, housework, and sleep, means there are less than 4 hours for eating, commuting, taking care of necessities, and maybe sitting down for a minute or two. A lot to handle in one day.
But with the right time management approach, you can accomplish more in a day, boost your professional life, manage your schedule efficiently, and equally reduce stress levels.
However, for those able to manage their time efficiently, this statistic can be washed away, and there can be more time for the things you enjoy. More importantly, for this article, managing time efficiently at work will increase your productivity as well as employee productivity and help you accomplish more, driving revenue growth and easing your mind at home. Let's go through some time management tips to help you make this happen.
Ready to Conquer Time with Clockly? Sign Up 14-day trial
11 Time Management Tips from Industry Experts
Time management is required to achieve long or short-term goals, prioritize tasks, schedule appointments, and optimize tasks more constructively. With consistency and diligence, you can positively impact your life and hone new time management skills. We have curated these time management tips to help you establish firm boundaries, reclaim your time, and strategize better for a more appropriate work-life balance.
1. Understand Where Your Time is Being Wasted
To fully understand how to manage your time better, you must figure out where your time is wasted the most. Effectively managing your time will be difficult if you can't decipher where it is being utilized more often. Whether it be disruptions from coworkers, emails, constant requests, inability to focus, or simply taking too long to accomplish specific tasks, you'll want to document them and alleviate them.
Create an everyday calendar or planner to track your full week schedule. Note down whatever you're doing each day regardless of the event or activity. When you have a clear picture of what you spend your day or time doing, you can attend to tasks based on priority and single out daily tasks or assignments with less importance.
2. Avoid Too Much Multitasking
It's become evident to many of us that efficient multitasking is a myth. If you want to get more done, make sure you are accomplishing tasks one at a time instead of all at once. This strategy will be much more productive, allowing you to regulate your time more effectively. Multitasking affects your time management. Experts say multitasking delays projects with about forty percent completion time.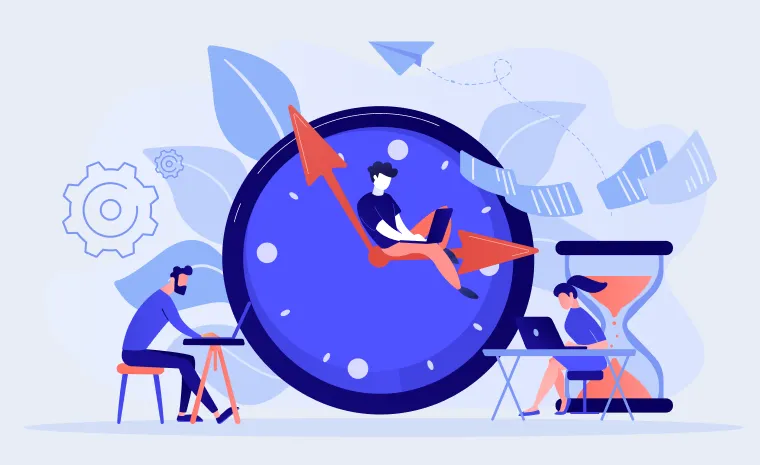 Multitasking might seem good, but to achieve effective remote time management, take a step at a time. Multitasking reduces efficiency and lowers the resulting quality. Those who think they are great at multitasking are the worst, as only a handful of the entire population can multitask effectively. Therefore, starting and completing tasks at a time is vital to achieving more at short intervals.
Multitasking might seem like a good thing, but if you want to achieve effective remote work time management, take one step at a time. Check out these tips to do it right: @intermedianet @intermedianet SEO Spider 13.0 - https://t.co/fILaERUTkF. Update includes -

😱 Near Duplicate Content Analysis

🐸 Spelling & Grammar Checks

🕷️ Improved Link Data (Link Position, Path, Target)

🍻 Security Checks

& loads more. Enjoy! pic.twitter.com/Lc7yhq8NVS

— Screaming Frog (@screamingfrog) Dec 19, 2020
3. Plan in Advance
One of the time management tips to adopt is schedule planning. By planning out all of your tasks before getting started with your day, you'll be able to know exactly how much you have on your plate and determine how much time you'll be able to devote to each task.
According to Tom Greening, "Time management starts with planning." Making to-do lists or tracking your tasks utilizing online tools will help you keep track of all tasks across all projects.
Planning your schedule helps you create a time-plan you can commit to and relieve you of minute-by-minute hyper-activity. Spend a couple of minutes adjusting and reviewing your schedule for any new task that comes up for adequate time structuring.
4. Prioritize and Reprioritize
Once you know what all of your tasks are and determined that you will only work on them one at a time, you'll need to figure out which ones take priority. Those of the highest priority should be done first and may need more time devoted to them. Once you have your top priorities accomplished for the day, you may need to go back to your task list and reprioritize based on new information or tasks received throughout the day.
One of the reasons people procrastinate is to avoid doing a time-consuming task. But getting those difficult tasks out of the way can help you prioritize rightly. Getting tedious tasks out of the way creates more free time. Also, it enhances your energy to pull through the day and gives you a sense of fulfillment.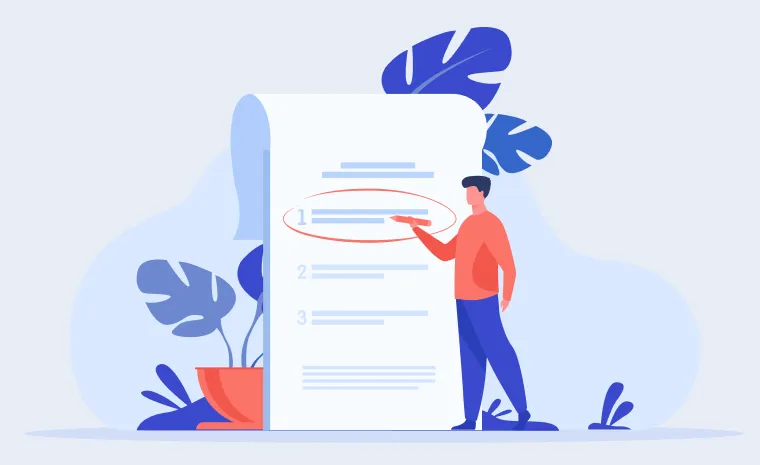 5. Delegate Tasks Appropriately
If you have too much on your plate or if someone else is better equipped to accomplish one or more of your tasks on your list, by all means, pass it on. Delegating tasks can sometimes be the most difficult yet the most effective way to accomplish all of your tasks and manage your time well.
6. Use Apps for Internal Team Communication
Ensuring communication is flowing throughout the organization will help everyone with their time management. Using internal communication software with chat, video, and screen sharing capabilities can save everyone from unnecessary meetings and keeps much of what you discuss documented for all to see.
With many time management apps available, you can tag teammates in upcoming projects, design workflows, and keep track of time efficiently. There are about 700 project management applications to choose from, select the best one on the market based on high and positive reviews, to access different useful scheduling tools.
Clockly by 500apps is one widely used time tracking software that can fit into your organization's schedule and help you monitor projects at a glance. The app is also available for mobile, desktop app, and web, with all the data synchronized between these devices.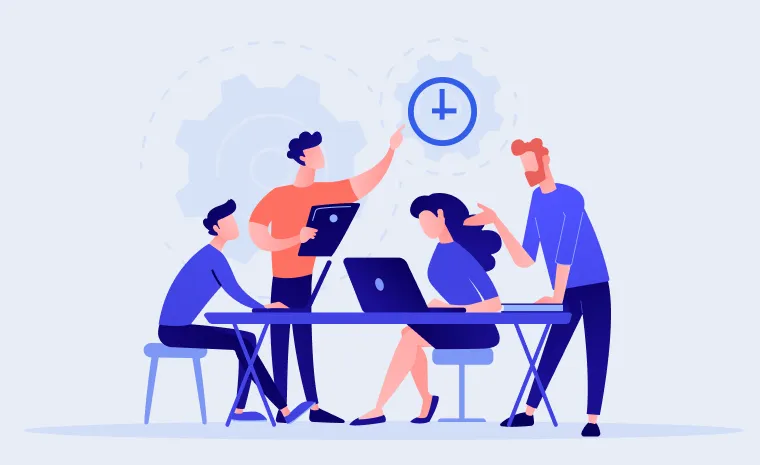 7. It's Okay to Say "NO"
Besides all the listed time management tips, turning down tasks is very difficult. It doesn't occur to many employees that it's okay to tell people you cannot drop everything and work on their request right now, or maybe even ever. If you want to manage your time well and get your essential and immediate tasks completed successfully, it may be necessary to turn down requests from others.
Saying NO to specific assignments can save you a lot of stress and multitasking. Be selective about what projects to attend to and the ones to decline. To manage your schedule effectively, you need to learn to value every moment.
8. Always Know Your Purpose
Ask yourself questions like: What is it you want to accomplish? What are your job responsibilities? What do you want to be doing in the future? If you are in charge of data entry and that's all you want to do, make sure you aren't getting tasks that aren't your responsibility or won't help you get to where you want to be. If you are middle-management and you aspire to do more, you may want to make sure you not only do your tasks but take on more tasks above your pay-grade so you can get ahead.
9. Use a Time Management Software Reference
One of the most effective ways to manage your time is to implement time management software. With the ability to track how much time is spent on which tasks and track your overall time spent working, you'll be able to determine how you can best spend your time.
One such time management software is Clockly by 500apps, which includes tracking your projects, tasks and time in one app. These features can help you determine how your time is spent now and how to plan your time on future projects better. For employers, it can also help you determine what your employees are working on and for how long, ensuring they are on task and as productive as possible.
10. Break Complex Tasks into Small Ones
It can be challenging to ascertain where to begin when you are faced with an important project. To solve this, divide that project into smaller bits that you can handle at once and without excess stress. You can also merge or classify similar projects together, place them in batches, and arrange each bulk according to its level of importance. For example, if you have projects with similar topics and approaches, put them together to avoid confusion upon completion. Breaking tasks help you with organization, goal setting, and prioritization.
11. Set Different Time Limits for Various Tasks
Most times, a lot of time is wasted trying to figure out specific projects. To counteract this, set a predetermined time to complete a project. To ensure this, adopt time blocking or utilize a planner. Time blocking is a strategy used to block-off large parts of your schedule or calendar each day for a particular activity. It encourages you to set a proposed time for when to complete various tasks.
Time blocking can be manually done on a personal planner or online calendar. Regardless of the option, you choose to go by; it will help you keep account of every tasks, when it's due, or when it has elapsed. So, you can be accountable for following the time plan you designed for yourself.
Conclusion
Perhaps some employees need to stop procrastinating and get to work. However, for the most part, employees have the best intentions to get all of their tasks done on time, but many factors tend to get in the way. As described above, with the right motivation and the right tools, you'll be able to determine what it is that is not enabling you to manage your time efficiently.
Industry experts agree that it is possible to have your cake and eat it too. Following these time management tips will help you in your quest to have it all, including some time to pursue some of your favorite activities. Goal setting, organization, delegation, and prioritization are essential time management tips that increase productivity. If you want to manage your time more effective you should give time tracking software Clockly by 500apps a try.
Discover Why Clockly Stands Out
#1
Get an instant preview of employee activities - timesheet, keystroke & mouse click logging
#2
Monitor in real-time by automatically capturing screenshots of employee's screen
#3
Take control of employee work hours for better project planning
#4
Utilize the project management functionalities to deliver your projects on time
#5
Add unlimited projects and manage all in one place
#6
Customize the screenshots interval and mouse / keyboard activities
#7
Integrate with popular project management tools such as Projectsly
#8
Automate payroll & expense claims with the online time-sheets
#9
Unbelievable pricing - the lowest you will ever find
#10
Everything your business needs - 50 apps, 24/5 support and 99.95% uptime
Join the SaaS Revolution
All-in-One Suite of 50 apps

Unbelievable pricing - ₹999/user

24/5 Chat, Phone and Email Support