How to Choose the Best Employee Timesheet Software?
The online timesheet software with in-built employee attendance incorporation is the right tool. The best online timesheet software to adopt must convert data produced into actionable and readable reports… This article will help you find the best software.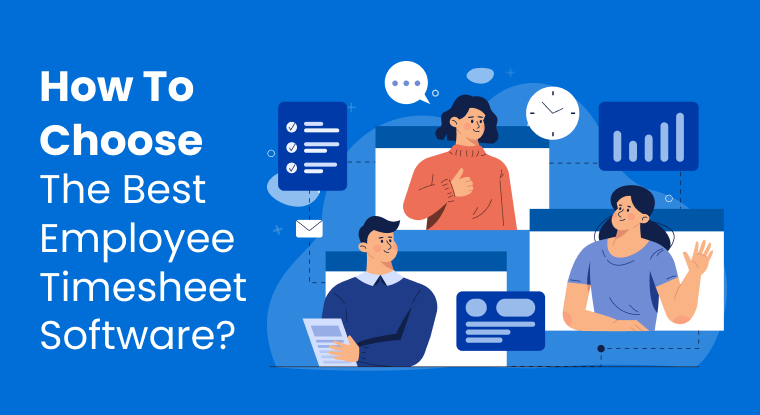 Employee Timesheet Software
A good online timesheet allows you to handle tasks and projects more efficiently, bill clients correctly, and perform error-free paysheet processing. Manual software like printed timesheets and spreadsheet packages are mostly prone to human errors. Therefore, choosing a good software for online timesheet is an imperative part of your company's productivity and growth.
With a standard employee timesheet software comes enhanced time optimization and effective planning that can drive your company to success. It is important to understand how to make the right choice accurately, as it's something that requires time, analysis, responsibility, and energy.
Logically, if it is already difficult to define our clothes, can you imagine choosing a software that will influence the way your company will work with you? Thinking about that challenge, we are going to tell you some tips to make that choice easier.
How to Choose Employee Timesheet Software
Here are some of the tips on how to choose a good software for online timesheets.
Evaluate Your Company's Processes
When you go to buy furniture for your home, you surely know all the measures of the rooms. In the end, you don't want to spend a lot of money on a sofa bigger than your living room. The same logic applies to acquire an online employee timesheet software solution. It is vital to examine the internal structure of your company to make the correct acquisition.
Choosing the best online timesheet software for your company requires a proper evaluation of your present company's operations, as it correlates with the production process, employee's performances, and resolution of charged hours of services. After such an assessment, you can start to highlight the features and characteristics of the best online timesheet software that will enhance the total operational administrations. However, buying an online employee timesheet software does not have to deal with size alone, but with the processes within your organization.
Before you start identifying the feature compatibility, you must consider the following questions during this analysis: Will your software option be needed to track the time spent on certain tasks or projects? Will the software be utilized to compute invoices for services? How much incorporation with already existing systems such as project management, finance, payroll will be demanded of your new online employee timesheet software? How many employees work at your company? What would employees use the new software for? What points do you want to improve your sales? What is the size of your organization?
For your company, it may be crucial for the online employee timesheet software to classify functions in terms of departments or teams and products or projects. Also, large companies need the software to categorize and tag projects, employees, or teams during the development of certain reports and application of analytics. Therefore, you should look for a software that offers these kind of features.
Furthermore, determining the number of employees you have and their skill-set can be a piece of information for a productive workday especially in labor cases. A special tool needed for human resource planning is the time-off report.
Discover What a Good Online Timesheet Needs to Have
In a company, you have different departments: commercial, HR and financial, for example. All areas need to talk with each other and understand how the activities of one influence the performance of the other. The online employee timesheet software with in-built employee attendance incorporation is the right tool for accounting units and HR. It gives a clear picture of existing resources and assists in quickly calculating paid time off.
Suppose that the accountant, to pay the salaries of the employees, must calculate how many sales are necessary to carry out the task. The online timesheet software used should facilitate the transaction of information within the organization so that each sector knows what its goals are and how to act to generate better results.
Each company has a different strategy and metrics, therefore, when choosing online timesheets, you must choose a system with a customizable control panel. With customizable timesheets you can create calculations and custom fields, reducing the need to manually enter data. Thus, instead of wasting time gathering loose sheets and looking at each metric separately, you can create filters with the most important elements to accompany and gather them in one place.
One of the principal benefits a good online timesheet must have is flexible reporting. Having online data is ineffective if you can't understand or envision it. The best online timesheet software to adopt must be able to convert data produced into actionable and readable reports. According to Sue T., a Development and Marketing Director, "Clockify is the best time management and reporting tool"
The more flexibility offered; the better – search for graphs, reports, dashboards, and even mobile access. Hence, it should help to access, obtain, measure, and scrutinize your company's performance, and also compute efficient estimates and forecasts for later.
With the data stored and analyzed, a company can, for example, perceive the failures of its purchase process, how the consumer is reacting to service, what are the difficulties of its sales team, among other information. And if you can measure data, you can make more conscious decisions with a high probability of success, and all of this on time.
Consider the Simplicity of the Online Timesheet and Perform a Test
The anxiety to organize and have many resources, in general, is great among managers. Many times, we want to start with total strength. Likewise, with the online timesheet. It is worthwhile to invest in a system that fits your reality. That way, when your business grows; so it is only then that you need to opt for a more robust software. The best online timesheet system is easy to use and keep micro-managers happy, employees even happier, and enhance productivity all round.
The employee timesheet app is going to be mainly used by your employees regularly. It is important for you to consider them while choosing the best online employee timesheet software to employ. You should ensure that the timesheet is simple to use and easy to learn daily. Since they would be making use of it constantly, it is vital to have them test it before purchase. This way, they can give you key insights that weren't initially considered.
Never skip the test stage. It is important to understand in practice how online employee timesheet software can improve the routine of your employees and your company. When you test the system, you have the possibility to check if it complies with what was promised.
Therefore, focus on simplicity. It will be easier to train your team to move the system and adapt the model to your business, scaling up the use of online employee timesheet software little by little until reaching its maximum performance is the best alternative.
Not only should they like the software, but you should also ensure it is simple to navigate especially if you're replacing it with a manual punch system – they may not have enough experience with the new advancement. This makes it important to choose an easy to use online employee timesheet software for your company.
An online employee timesheet software is used every day by employees, so clear views will let you save lots of time when the year ends. With a simple user interface, you can see simple informative and clear tables and you also have the capability to change feature you don't require. In addition, if they have access to functionalities that extrapolate your needs, and they are compatible with the demands of your company, you can adopt them.
One thing is certain: having an online employee timesheet software, at any time in your company, will give a more competitive advantage to your business. The employee timesheet software allows your organization to gain in productivity and intelligence, facilitating more planned decision making. Allying strategy with data is crucial to have a good performance in the market.
A user-friendly employee timesheet software will be useful when inspiring your employees to sustain their time record. A simple interface is easy to navigate, delivers important in one glance, and does not affect your focus or priority with irrelevant details.
Wrapping Up
What is the best time to buy the employee timesheet software? Let's be honest: now!
The best online employee timesheet and time tracking software should offer chat support to quickly and easily rectify issues with the software during the incorporation phase and swiftly solve any problems that arise. Clockly is one such software which is build with robust analytics and robotics capabilities. It give you a proper reporting system, and provide you annual, monthly and daily report options. With this ability, you can easily develop detailed conclusions and summaries.
Discover Why Clockly Stands Out
#1
Get an instant preview of employee activities - timesheet, keystroke & mouse click logging
#2
Monitor in real-time by automatically capturing screenshots of employee's screen
#3
Take control of employee work hours for better project planning
#4
Utilize the project management functionalities to deliver your projects on time
#5
Add unlimited projects and manage all in one place
#6
Customize the screenshots interval and mouse / keyboard activities
#7
Integrate with popular project management tools such as Projectsly
#8
Automate payroll & expense claims with the online time-sheets
#9
Unbelievable pricing - the lowest you will ever find
#10
Everything your business needs - 50 apps, 24/5 support and 99.95% uptime
Join the SaaS Revolution
All-in-One Suite of 50 apps

Unbelievable pricing - ₹999/user

24/5 Chat, Phone and Email Support