The Pros and Cons of Using Employee Monitoring Software
Attaining complete transparency between employees and employers is a necessity for a harmonious work environment. As such, companies have attempted to track their employees' activities, especially during work hours to ensure that employees are doing the right thing at the right time. Most of the methods used to create friction between the two parties, ultimately interfering with productivity but with monitoring tools such as Clockly, employers can now follow what the employee is doing at the click of a button. Read on to understand why every business needs this time-saving tool.
Analyzing and monitoring employee work behavior helps organizations increase workforce productivity. The workforce activity data collected through employee monitoring allows an organization to track time and manage resources effectively. The deep insights into the employees' activities let the organization understand the business processes and the ways to improve them.
What is Employee Monitoring Software?
Employee monitoring software is a web service that monitors employee activities automatically. The software helps improve work efficiency by giving an insight into what tasks employees are working on while tracking their progress in real-time. The employee monitoring technology proves beneficial for businesses that want to assess their employee productivity, software use, and attendance.
Most businesses use employee monitoring for the following reasons.
To detect or prevent costly data breaches.

To boost employee engagement in the organization.

To optimize inefficient workflows.

To optimize employee performance.

To carry out a comprehensive workforce analysis.
Ready to boost employee productivity with Clockly? Sign Up 14-day trial
The Top Employee Concerns About Employee Monitoring Software
Organizations use employee monitoring software to understand and analyze how their workforce operates. The managers can analyze user activity data to understand the average employee activity levels, manage software utilization, and detect high-risk behavior. However, employees may have concerns about the employee monitoring strategy because they want to work in a transparent, fair, and minimally invasive environment.
Here are the top employee concerns about employee monitoring software.
1. Employees Feel Their Employers Spy on Them
Transparency is vital when an organization monitors its employees in the workplace. If it secretly uses monitoring tools, it is a serious privacy invasion. A lack of transparency between the employers and the employees makes the latter have negative perceptions. Employees who do not know they get monitored may find it tough to accept employee monitoring. The employees may also face anxiety if they do not understand the employer's intentions.
Disproportionally invasive monitoring software contributes to negative perceptions, decreased employee morale, counterproductive work behaviors, and stress.
2. Employees Feel Their Contributions Won't Get Recognized
Most employees get concerned that the employee monitoring data may be the sole source of truth when the employers assess their performance. Employee monitoring software is a business intelligence tool, but it does not provide a context of how individual employees perform their tasks. The computer activity cannot capture the work-adjacent tasks like in-person meetings, planning, deep thinking, conversation with co-workers, etc., accurately. So, the employees get concerned if the organization automates decisions depending on the monitoring data.
3. Employees Do Not Know Who Will Access Their Data
Employee monitoring data is sensitive information that remains in the employer's custody. The employees have zero control over the privacy and security of the data. The lack of access to the data leaves the employees concerned that it may not be safeguarded or protected adequately from misuse. Employees also fear the possibility of data leaks, blackmail, and social strife if the data gets into the wrong hands. Moreover, employees get concerned that the information may get unfairly used against them during performance reviews.
4. Employees May Think That Monitoring Will Get Used to Punish Them
Individual employees may perceive monitoring as invasive if they are scrutinized based on the captured data. When employees get approached to monitor them, they may feel that the employer is seeking reasons to discipline them rather than considering their contributions. The fear of micromanagement and punishment induces a feeling of resentment and lack of autonomy among employees.
The Pros and Cons of Using Employee Monitoring Software
Employee monitoring is a logical solution for business organizations to overcome the challenges of inefficient workflows and preserve the quality of the products and services. However, employee monitoring presents a fair share of concerns for the business and the team members.
We will be discussing the pros and cons of using the software below.
Pros Of Using Employee Monitoring Software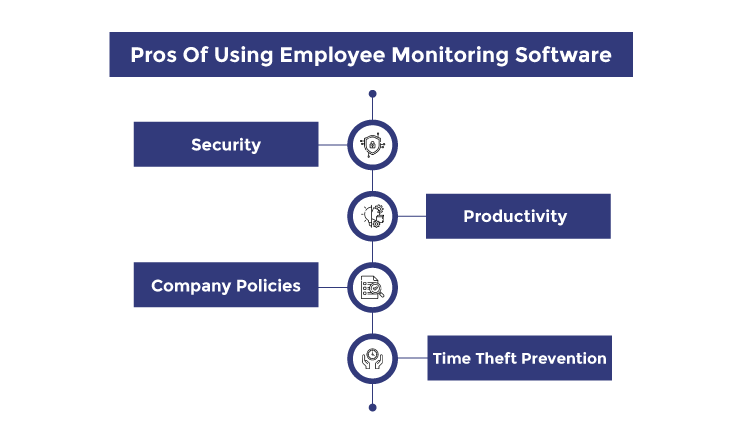 There are multiple employee monitoring advantages to both the employers and the employees as long as it is fair and transparent.
1. Security
Business organizations monitor employees to ensure that the company gadgets like laptops or desktops get used securely and appropriately. Organizations can use the software to track internet use, sensitive information interactions, and high-risk behaviors that may affect the business.
2. Company Policies
Organizations can employ the monitoring software to ensure that internet use policies get adhered to by each employee. The activity reports can act as evidence if an employee visits an inappropriate or high-risk website.
3. Productivity
Employee monitoring software gives an insight into the employers about how the employees spend their time. Employers can track the employees who are overworking, spending too much time browsing the web, or consuming media and take actions accordingly to enhance employee productivity.
4. Time Theft Prevention
Monitoring employee activities ensure that everyone is working during the agreed-upon hours. Organizations can also use the software to track the activity levels of each employee in the workplace to get an idea of the time at which they start or stop their weekdays.
Cons Of Using Employee Monitoring Software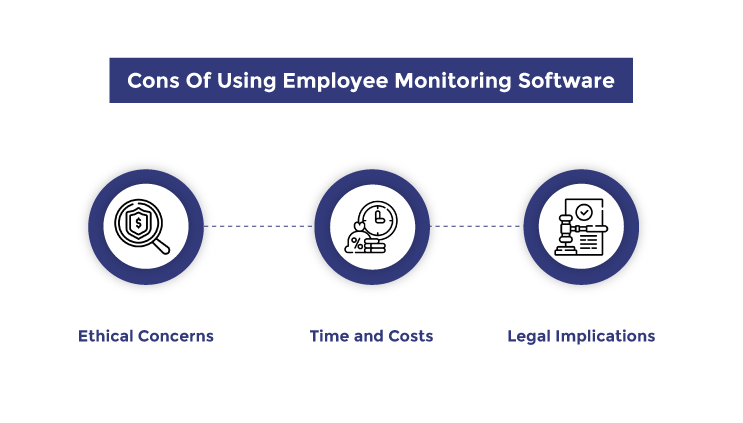 Employee monitoring software may prove disadvantageous if used for constant monitoring, invasive surveillance, and micromanagement.
1. Ethical Concerns
Employees may feel that the employers do not respect or trust them if they use employee monitoring software. The employees may also raise concerns about their privacy getting violated due to constant monitoring of the activities. The feelings of distrust lead to resentment and decreased employee morale.
2. Time and Costs
Employee monitoring solutions costs money and time. Employers must research to find accurate monitoring software, create new policies, and implement them in the organization. The employers may also need to refine the tracking process for maximum effect even after the system is in place. If they spend time and money on employee monitoring, the employers may get distracted from other significant tasks or projects.
3. Legal Implications
Employers may have to take legal risks when they monitor their workforce. Every state has laws for employee monitoring to ensure that employers legally track work activities. However, the employers have to see if the organization is compliant with the monitoring laws before implementing the activities in the organization.
There is a chance that employers may over-monitor their employees. It may present legal risks and sensitive information leaks in the worst cases. This privacy intrusion can lead to a lawsuit against the employer or the organization.
Feature of Employee Monitoring Software with a Focus on Privacy
The best employee monitoring software allows employers to track work activities and respects privacy expectations. Clockly is an efficient time tracking software that provides the following security-enhanced privacy features.
It enables employee-friendly time tracking to boost team productivity.

It can integrate with other project management software for better work efficiency.

It enables location tracking, screen captures, and mouse clicks for transparency.

It generates online timesheets and time tracking reports to boost productivity.

It has a chrome extension to help track activities quickly.

It provides instant notifications for all tasks and projects.

It ensures secure work conditions and data privacy.

It helps secure sensitive data and protects an organization's intellectual property.

It tracks time and improves productivity without invading the employees' sensitive data.
Summing It Up
Employee tracking software is the best way to track employee tasks and activities during office hours. The software gives a deeper insight to the employers about work inefficiencies or setbacks so that they can work to enhance the business processes and get rid of bottlenecks. From monitoring employee attendance and tasks to providing instant notifications on activities, the software provides a one-stop solution for all your organization's employee monitoring needs.
Discover Why Clockly Stands Out
#1
Get an instant preview of employee activities - timesheet, keystroke & mouse click logging
#2
Monitor in real-time by automatically capturing screenshots of employee's screen
#3
Take control of employee work hours for better project planning
#4
Utilize the project management functionalities to deliver your projects on time
#5
Add unlimited projects and manage all in one place
#6
Customize the screenshots interval and mouse / keyboard activities
#7
Integrate with popular project management tools such as Projectsly
#8
Automate payroll & expense claims with the online time-sheets
#9
Unbelievable pricing - the lowest you will ever find
#10
Everything your business needs - 50 apps, 24/5 support and 99.95% uptime
Join the SaaS Revolution
All-in-One Suite of 50 apps

Unbelievable pricing - ₹999/user

24/5 Chat, Phone and Email Support