Is it Possible to Monitor and Track Work Hours of Remote Employees?
2020 was an incredibly dark year, with its implications the heaviest of any year in recent history. The Coronavirus Pandemic beset the world with viral speed and tenacity; with the effects it occasioned of equally global proportions as well. Apart from forever faulting the health feasibility of physical communications, it also wreaked havoc on global commercial and financial systems. What it left behind in its wake was millions of lost lives, and trillions in lost monetary value.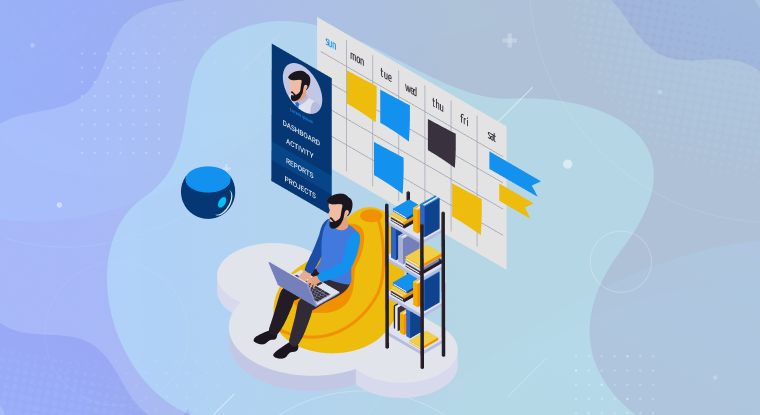 In order to cope with the damaging effects of the COVID-19 Pandemic, businesses have had to adapt to the harsh realities it brought to the fore. Many had to try to salvage what was left as soon as possible, before they lost everything. This was to be done with physical interaction levels next to none, so they looked to the internet for a solution. Statistics by Apollotechnical.com have shown that the growth rate for the adoption of remote jobs has increased by 87% since the dawn of the pandemic. In addition, 2022 statistics by Findstack have also shown that 16% of companies worldwide are fully remote, and 85% of managers believe that remote working is about to become the new status quo. These numbers are too convincing to be discarded, and they indicate a clear and somehow irreversible trend. The issue in question remains how businesses can ensure maximum productivity from remote workers.
Why Shall You Monitor Employees Who Are Working Remotely?
Remote working is a very comfortable experience in most cases. Most people prefer flexible working hours and not having to leave their comfort zones. In fact, the aforementioned study by Findstack revealed that 77% of workers believe they are more productive working from home. While this comes across as good news for most businesses, it does not entirely guarantee the fact that the absence of the hands-on approach that characterized traditional workplaces would not cause employees to slack off. In fact, this fear is one of the reasons a lot of establishments are still skeptical about going remote. While this is a valid line of reasoning, the question in itself is erroneous. Monitoring employees in any case is not up for debate. Monitoring remote employees is pivotal to employee productivity. It allows employers to track and enforce execution of tasks, while the little extra pressure might be what employees need to do more.
Moreover, it allows employers to be able to assess employee strengths and weaknesses, and react accordingly. This might mean the employee might be a better fit in another role on a team, or in another team entirely. It also allows employers to track resources, knowing what is necessary to improve employee productivity and making budgets in tandem with the findings. Employee monitoring software also allows employers to assess microscopic values of employee output, and deliver feedback on where the employee should be commended, and where improvements are needed. In all, employee monitoring is important for a myriad of reasons, most of which hold even truer in remote workplaces. This begs the question; how can remote employees be monitored?
How Can You Monitor Remote Employees?
There's a variety of ways to effectively monitor employee activity, productivity, and dedication. Some of them include:
Email Monitoring: This involves monitoring the number and content of mails the employee sends and responds to in the course of the job. This can be an effective way to monitor employees in departments like support and marketing, and can be done with an email analytics tool.

Task Logs: This method requires supervisors to draw a list of activities the employee is expected to take part in for a period. The activities are usually such that their accomplishments are sure to guarantee the employee has done a substantial part of the job. The tasks logged might be microscopic tasks that order every step of the job completion, or tasks larger in scale that leave the mode of execution down to the employee's discretion.

Activity Reports: This method is the reverse of task logging. Rather than pre-ordering the employee's activities for the period, it works by having the employee do the job and recap the activities and tasks done in a report submitted to the supervisor. A supervisor could also be assigned to periodically check in and monitor the employee's activities, instead of just waiting to get a report.

Time Monitoring: This is when an employer deploys a time-monitoring software to track the time logs of an employee. The tool monitors the time an employee spends on tasks on the course of the job, how much time spent on different applications, and compiles the data for the employer. The employer then determines whether the time data is in line with the job agreement, and whether the employee is doing a satisfactory job or not.
Ready to Track Work Hours of Remote Employees with Clockly? Sign Up 14-day trial
What Software Should You Choose To Monitor Remote Employees?
Most of the employee monitoring methods mentioned earlier are software-intensive methods, as deployment of software is the most efficient and transparent method of employee monitoring. Finding the right employee time tracker might be a hassle, so the following are some of the best software to use for remote employee monitoring:
1. Clockly: Clockly is an employee monitoring software that specializes in time management and reporting. It is reputed to be employee-friendly, and is capable of generating timesheets and location tracking.
2. SentryPC: This is an activity-based employee monitoring software with a wide range of applications. It is capable of blocking access to sites and tracking activities remotely, as well as investigative in nature.
3. Work Examiner: This is a time-monitoring software that branches brilliantly into web restriction activity. It is also suitable for close employee surveillance, and comes with a 30-day free trial period.
4. Hubstaff: Hubstaff is a very popular employee monitoring tool that monitors productivity by tracking employee time logs. It also possesses other features such as scheduling, reporting, and tracking.
5. iMonitor Soft: This is an all-in-one solution to remote employee monitoring. It has an arsenal of features like keyword and website filtering, multimedia and document monitoring, remote computer control, as well as a host of other activities.
6. Veriato: This tool is specifically designed for company data protection. It is designed to monitor, analyze, and directly act on minute changes in subjective and objective employee factors.
7. Teramind: This is a popular software that tracks a myriad of employee activity to ensure maximum productivity. This includes monitoring live views of employee computers, email monitoring, etc.
8. Controlio: Controlio is a cloud-based employee monitoring software that is popular for its affordability. It can track a myriad of employee activity such as emails and internet activity, in order to boost productivity and detect potential threats.
9. InterGuard: InterGuard is a sophisticated activity-based employee monitoring software that seeks to improve productivity and protect data. With personalization done by the user company, the software acts on the set criteria to monitor employee computers and carry out a set of activities in case of a data breach.
10. Connecteam: This is a tool that specializes in task logging and activity reporting. It also possesses a timer and a scheduling feature, making it a well-rounded employee monitoring software.
These are some of the best employee monitoring software on the market. As much as each of them boasts unique and efficient features, Clockly ranks first for a number of reasons. These include its superb integrations compatibility, all-encompassing and fool-proof tracking that poses little risk to personal privacy, amongst others. It also comes at an affordable of $14.99, a payment that not only offers access to Clockly, but also 37+ tools in the 500apps Suite of SaaS-leading software.
Conclusion
Conclusively, it is useful for business owners to know that remote work is slowly but steadily becoming the future of work. And while it is definitely a new terrain for most, it is entirely possible to enjoy its benefits whilst sidelining its potential shortcomings. With market-leading software such as Clockly, employers are about to enter the new age with an insurmountable advantage.
Discover Why Clockly Stands Out
#1
Get an instant preview of employee activities - timesheet, keystroke & mouse click logging
#2
Monitor in real-time by automatically capturing screenshots of employee's screen
#3
Take control of employee work hours for better project planning
#4
Utilize the project management functionalities to deliver your projects on time
#5
Add unlimited projects and manage all in one place
#6
Customize the screenshots interval and mouse / keyboard activities
#7
Integrate with popular project management tools such as Projectsly
#8
Automate payroll & expense claims with the online time-sheets
#9
Unbelievable pricing - the lowest you will ever find
#10
Everything your business needs - 50 apps, 24/5 support and 99.95% uptime
Join the SaaS Revolution
All-in-One Suite of 50 apps

Unbelievable pricing - ₹999/user

24/5 Chat, Phone and Email Support