Top 5 Employee Monitoring Solutions to Buy for Your Business
Discover the top 5 employee monitoring solutions for brands of any size and in any industry. You're sure to find the perfect fit among these handpicked favorites.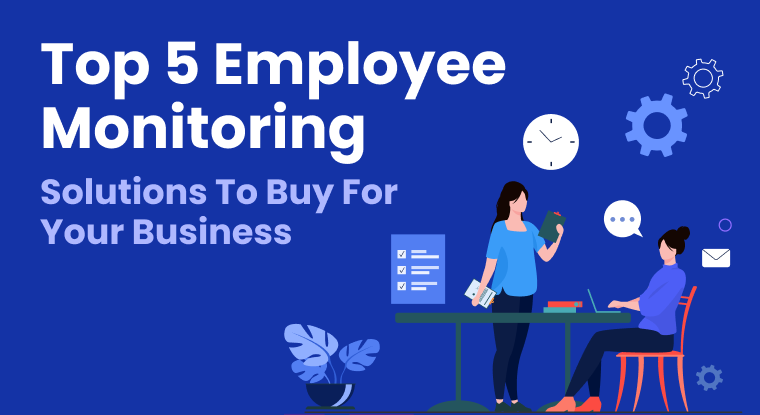 Productivity is almost universally recognized as the key benchmark in business. In fact, productivity is used to measure success in almost every area of life. One of the reasons productivity is so closely studied in the business world, and elsewhere, is that it's super easy to correlate productivity and success no matter what criteria you use to define success. For example, if you define success as more sales, you can boost productivity and acquire more sales. As a concept, it doesn't get any simpler than that. As a concept, more productivity equals more positive results.
The confusion begins when you break through the surface and ask "how?"
You need more employee productivity, but how do you challenge them and bring them outside their comfort zones without breaking their spirit? Social media expert and CMO influencer Jeff Bullas explained that everyone has a breaking point.
Increase Employee Productivity with Clockly's Employee Monitoring Solutions Sign Up 14-day trial
""For most people, there is a limit to which they can stretch themselves. After that, you are bound to break down. The huge burden of unfinished tasks takes a toll on your relationships as well as your physical and mental health.""
You need to be able to identify opportunities for growth and nudge employees along the path to more productivity. You need data to identify bottlenecks in productivity, to highlight strengths and weaknesses among your staff, and to make data-driven decisions in general.
Data is the lifeblood of your workflow, and the best way to collect the kind of data you need to boost employee productivity is to take advantage of employee monitoring solutions like the ones listed below.
Top 5 Employee Monitoring Solutions for Brands of All Sizes
1. Clockly By 500apps
Clockly helps you supercharge your team's efficiency and productivity by providing a full suite of employee monitoring tools and time tracking solutions.
The employee monitoring software provided by Clockly enable you to calculate payroll with confidence, knowing your team has put in the hours. In addition, it uses innovative dashboards and easy-to-read reports to keep you informed of employee performance, activities, and productivity. Clockly supports automatic and manual tracking, allowing for the creation of insightful online timesheets. As an added bonus, it uses reminders and notes to annotate time and inform its users.
A powerful Software as a Service (SaaS) online app, Clockly starts at just $14.99 per user per month, and with the time saved on creating and managing payroll, it practically pays for itself.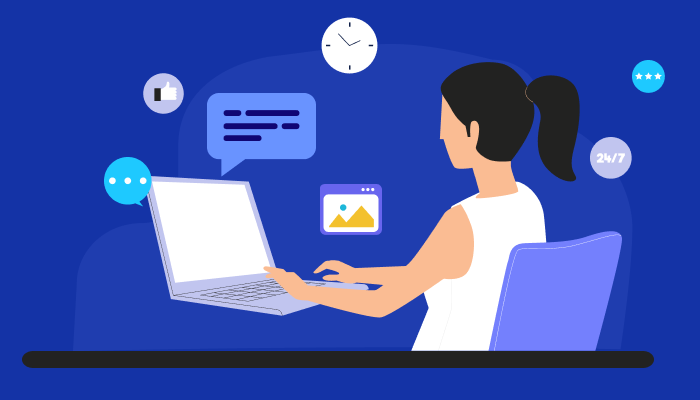 2. Teramind
Teramind is a robust SaaS platform with a useful set of employee monitoring solutions to help your team increase productivity and efficiency through useful features and a user-friendly interface complete with activity monitoring.
Efficiency is just as important as productivity, and Teramind helps you nail them both. Teramind comes with data loss prevention procedures built right in alongside powerful user behavior analysis, keeping you informed of employee performance no matter where your team is located. As a cloud-based tool that can be installed on Windows or Mac, Teramind is reasonably priced at $18.00 per month per user.
3. TimeDoctor
TimeDoctor takes a serious approach to employee monitoring so that you can be assured of employee performance through built-in features that allow you to easily analyze activity.
TimeDoctor's employee monitoring solutions take screenshots while reporting on tasks completed by your team members. In addition, time tracking and activity monitoring empower you to create an easy payroll system with customizable work-time periods and currencies.
Time Doctor integrates smoothly with leading applications like Asana, Trello, Slack, GitHub, Jira, Podio, Salesforce, Google Apps, and many others.
Pricing starts at just $9.99 per month for each user and TimeDoctor comes with a 14-day free trial.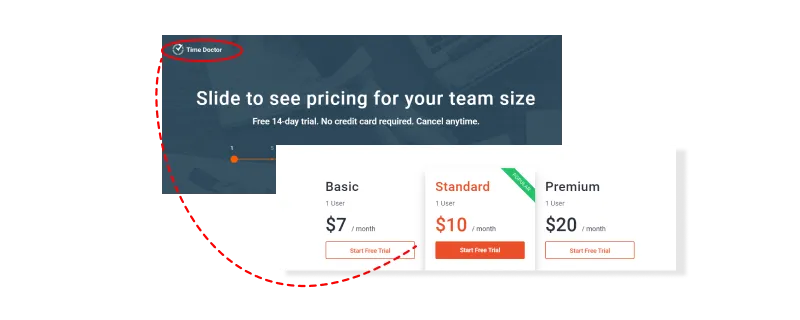 4. DeskTime
DeskTime tracks employee working hours and productivity through features like scheduling, project tracking, and optional screenshots. Through attendance management, an event calendar, expense tracking, and even project management, it provides all the tools needed to keep everyone focused and on task.
Like many other tools, it features time tracking alongside a mobile app and employee database.
Never worry about integration again with API and application integration. You can even use it to monitor leaves and absences in employee scheduling. It also integrates well with Jira ,Asana, Trello, Basecamp, and others.

5. ActivTrack
ActivTrack offers a secure solution to employee monitoring so you never have to worry about invasion or data loss as you aim to improve productivity among your staff.
Featuring two-factor authentication, Google sign-in, and a secure iOS app, the application allows for user privacy features to keep things tightly managed. In addition, it boasts Active Directory integration with automated alerts and other employee monitoring solutions. You can use the simple and effective administrator's interface to view employee productivity tracking while redacting sensitive data and taking screenshots along the way.

It starts at $7.20 per user per month, and it's well worth the investment.
Conclusion
You know your business better than anyone else. You understand the unique challenges and roadblocks your team faces on a daily basis. By using employee monitoring solutions and time tracking software like the ones mentioned above, you're taking data collection to the next level. Before pulling the trigger on any one app, it's important to go over your brand or department's budget. If you're the decision maker, you're responsible for the financial stability of your team. While employee monitoring is important, you should shop around and find the best fit for your situation.
We've listed some of the best employee monitoring solutions on the market. While most decision-makers simply jump for the lowest price or the most bells-and-whistles, it's important that you take your time and try out as many apps as possible before making a decision. Clockly for one offers best employee monitoring/time tracking software features like automatic reporting, activity screenshots, easy-to-use dashboards, and payroll solutions.
Discover Why Clockly Stands Out
#1
Get an instant preview of employee activities - timesheet, keystroke & mouse click logging
#2
Monitor in real-time by automatically capturing screenshots of employee's screen
#3
Take control of employee work hours for better project planning
#4
Utilize the project management functionalities to deliver your projects on time
#5
Add unlimited projects and manage all in one place
#6
Customize the screenshots interval and mouse / keyboard activities
#7
Integrate with popular project management tools such as Projectsly
#8
Automate payroll & expense claims with the online time-sheets
#9
Unbelievable pricing - the lowest you will ever find
#10
Everything your business needs - 50 apps, 24/5 support and 99.95% uptime
Join the SaaS Revolution
All-in-One Suite of 50 apps

Unbelievable pricing - ₹999/user

24/5 Chat, Phone and Email Support