How Employee Time Clock Helps Monitor Remote Employees and Saves Time
Since technology such as telephones, computers, and the internet became available, remote work has progressed from mere feasibility to a burgeoning reality. Many businesses and business models depend on remote work for functionality and thrive excellently. With the COVID-19, many companies have adopted a remote system for most of their employees as a matter of necessity. According to FlexJobs, remote jobs grew 158% between 2008 and 2020, while a 2021 Mercer survey showed that 70% of companies planned to adopt a remote-physical working combination. With these, it is fair to say that the WFH system is becoming a mainstay in the contemporary world.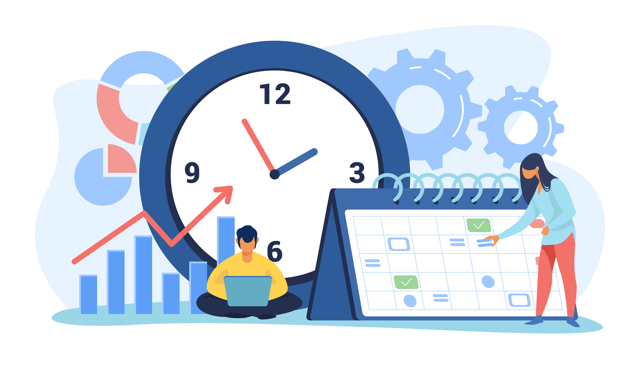 However, running a remote enterprise is not a walk in the park. The risk of employees taking unauthorized benefits off of work is high, and the absence of immediate and on-the-spot supervision may hinder productivity. Employees can get unauthorized benefits and deceive employers under cover of remoteness. Time theft is one of the most challenging issues bedeviling the WFH system. This involves employees falsifying time logs or using supposed work time for other activities, reducing efficiency.
Why Is It Important To Track Employee Work Hours?
Tracking employee work hours using an employee time clock boosts productivity and profitability. It helps employers and supervisors know how many hours an employee spends on work-related tasks and react accordingly to ensure that targets are met promptly. Thus, they can budget according to the employees' work data and ensure employees work as much as stipulated in the employee agreement. It also points out when an employee's workload is too large or too small and how to reallocate tasks. This ensures employers can get the most out of employees without overworking them.

It allows businesses to come up with correct billing information for customers, clients, and employees. Tracking remote employee hours means employers can give definitive proof of work to clients and can use it to charge bills from such customers in the case of businesses that charge clients per hour of service rendered. It also makes sure an employee gets paid for the correct unit of service rendered for companies that pay hourly.
Ready to monitor remote employee productivity with Clockly? Sign Up 14-day trial
It also ensures proper project management. With proper employee tracking system, employers can effectively monitor maximum unit work done by remote employees within a particular time frame and use it to project targets and deadlines for the team. Detailed employee data and online timesheets can also inform employer decisions about what parts an employee plays in a project.
How Employee Time Clock Helps in Monitoring Remote Employees
The need to monitor employee work hours has never genuinely been in doubt, especially with the growth of remote job statistics. The next concern would be finding an effective way to track employee work hours with this a settled fact. This can be done effectively with the help of a employee monitoring software. This employee time clock automates monitoring and reports to the employer.
This works by allowing employees to sign in to the software as they would arrive and sign out as they would leave work. Throughout the period between the sign-in and sign-out, employers can easily monitor employee time usage through timesheet reporting and data logging. This is done to map out an employee's time on the assigned tasks and how work hours are used across applications. It does as much as account for breaks taken by employees during work hours and covers every minute of the workday. Some advanced time-clocking tools like Clockly also possess features that allow employers to take screenshots of employee screens and monitor data like locations and keyboard/mouse clicks.
How Employee Time Clock Helps in Saving Time
The previous section has explained the workings of employee time clock software in detail. According to Personneltoday.com, 22% of employees admitted they waste time on unnecessary tasks weekly. Data like this shows how much productivity businesses lose regularly. These activities could include manual time logging and supervision of both workers and supervisors. With such an advanced level of supervision enabled by time clocks, employers and employees alike can make conscious efforts to accomplish more productive tasks in less time. It also allows for effective deadline management with project dashboards and timesheet reporting.
Clockly, an employee monitoring and time tracking software is Clockly comes with features such as; an in-built project management tool called Projectsly, timer and time-tracking reports, activity tracking such as clicks and location, and 25+ integrations supported, amongst others. Clockly is the perfect tool for time-saving and employee management. And at $14.99, a price that also offers access to 37+ other tools in the 500apps Suite, it is a peerless bargain for any business owner looking for maximum productivity.
Conclusion
Employee monitoring and time tracking are a must-have for a business having remote employees, either as a fully remote business or as a hybrid business. Apart from saving time, it also saves costs in the long run. Aside from increasing productivity and profitability, it also ensures that resources are properly allocated by tracking employee activity and need. In addition, the American Payroll Association posited that companies could save up to 4% of annual payroll expenses with an automated time and attendance system. These facts continue to make a case for glowing employee time clock systems, such as Clockly, in remote businesses.
Discover Why Clockly Stands Out
#1
Get an instant preview of employee activities - timesheet, keystroke & mouse click logging
#2
Monitor in real-time by automatically capturing screenshots of employee's screen
#3
Take control of employee work hours for better project planning
#4
Utilize the project management functionalities to deliver your projects on time
#5
Add unlimited projects and manage all in one place
#6
Customize the screenshots interval and mouse / keyboard activities
#7
Integrate with popular project management tools such as Projectsly
#8
Automate payroll & expense claims with the online time-sheets
#9
Unbelievable pricing - the lowest you will ever find
#10
Everything your business needs - 50 apps, 24/5 support and 99.95% uptime
Join the SaaS Revolution
All-in-One Suite of 50 apps

Unbelievable pricing - ₹999/user

24/5 Chat, Phone and Email Support