Why Employee Tracking Is Crucial to Your Business?
Employee tracking can help companies cut down on employee turnover, increase productivity, and improve efficiency. Most employees spend at least half their day working, but many don't track how they are spending their time.
By knowing where your employees spends their time, you will have a better idea of what's going on and if they need additional training or guidance in certain areas. This information can then be used to make decisions about hiring, promotions, pay raises, and other benefits.
What Is Employee Tracking?
Employee Tracking is a system that allows employers to track their employees' activities and productivity. This can be done through software programs that monitor employee performance.These programs can be accessed from any location via a computer or mobile device. They allow companies to keep tabs on their workers and make sure they do what they should be doing. This helps employers improve their business processes and increase efficiency. Employee tracking software can be used to manage payrolls, timesheets, attendance records, leave requests, and other administrative tasks. It enables companies to monitor their employees to ensure they follow company policies. Employee monitoring software can track several aspects like productivity, attendance, performance reviews, and other metrics that are important to the success of your business.
What Are The Benefits Of Employee Tracking?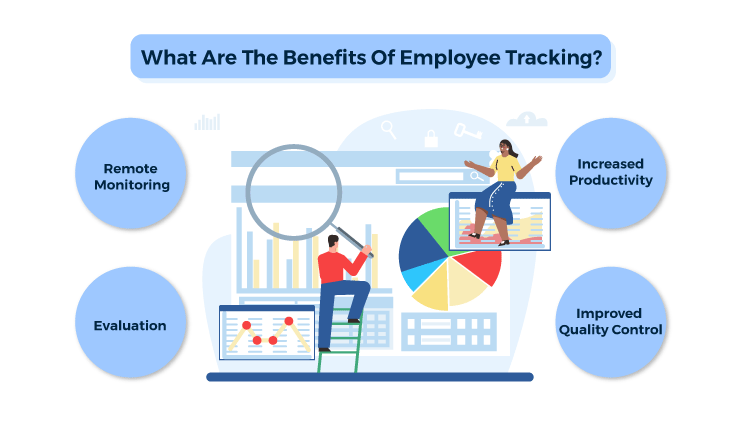 Streamline work
Employee tracking software gathers information about employees and how they perform their job. This information is used to make changes to improve employee productivity. These systems collect data from time tracking reports to streamline work. The data gathered can then be analyzed to determine whether the employee meets expectations. If not, the system can provide suggestions to help them improve.
Remote Monitoring
Since many organizations are now opting for remote work, the employee tracking system helps them understand how their employees work and what they spend most of their time doing. In addition, the software can remotely monitor and record the on-screen movement in real-time.
Evaluation
Employee tracking benefits are a great way to keep track of your employees' activities and productivity. You can use this information to help improve their performance and overall satisfaction. This type of system allows you to monitor the time that each employee spends working on various projects. You can then use this data to determine if they need any additional training. It is designed to help keep track of performance and provide real-time feedback so they know where they stand in terms of performance metrics.
Increased Productivity
Another benefit of using an employee tracking system is increased productivity. By keeping tabs on how long each employee takes to complete tasks, you can ensure that everyone is productive and efficient. If you notice that some employees take longer than others to complete certain tasks, you can adjust their workload accordingly.
Improved Quality Control
An employee tracking system can also help you ensure that your products meet quality standards. You can use this system to track the amount of time each employee spends performing different tasks. You can then compare these data with the expected results. If any employee consistently falls short of expectations, you can address the issue immediately. You may also want to track how long your employees have been working for your company, as this can give insight into their performance and habits. By keeping tabs on everyone's activity, you can ensure that no one is slacking off while others are putting in extra hours.
Get Started with Employee Tracking Using Clockly Sign Up 14-day trial
What are the challenges of Employee Tracking?
Employee tracking systems have become increasingly popular over the past few years. However, they do come with some challenges.
Maintenance
One challenge is that they require constant maintenance and updating. Biometrics systems require enormous amounts of maintainence.
Features Updation
Another issue is that these systems tend to get outdated rather quickly. In addition, many companies find it difficult to integrate new features into their existing business processes.
Lack of Accurate Data
The data collected by these systems may not always be accurate.The first step towards accurate data is collecting the correct data. If the data collection method is not accurate enough, it may result in inaccurate data.
Inability to Integrate
The other challenge is that it has to be able to track employees from various locations around the globe. It should have the ability to be integrated into other systems like payroll, HRIS, CRM, etc. Therefore, it may be difficult to provide end-to-end visibility across the organization.
Data Gaps
There can be unnecessary data gaps ,especially related to change in shifts and schedules of employees if not updated properly.
How does employee tracking work?
Tracking your employees can help you manage them better to increase productivity. This allows you to have more control over your workflow and resources. A good way to track your employees is through an online system using software that lets you create custom reports. There are two types of reports: standard reports and advanced reports. Standard reports include basic information about your employees, while advanced reports give you more detailed data about each employee.
After choosing the type of report, you have the option to customize it further. Customization options depend on the type of report that was chosen. Some of these options include adding filters, sorting columns, and exporting reports.
There are many different ways to customize your reports. You can add filters to specify exactly what you're looking for and filter out unwanted data. You can sort columns based on time or any other criterion that makes sense to you. Finally, you can export your reports into easy-to-read formats, including Excel spreadsheets, PDF files, and CSV (comma-separated values) text files.
How To Get Started With Employee Tracking?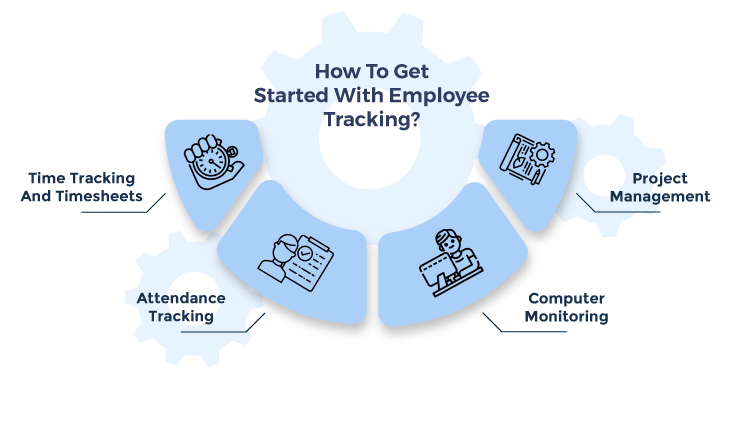 Listed below are some of the methods and features of an employment tracking software which you can use to start monitoring your employees efficiently.
Time Tracking And Timesheets
Time track feature allows you to record the time for which employees work, including overtime on timesheets. With these data, Online timesheets help you calculate pay rates accurately and ensure that employees are compensated correctly. The feature can even time the work done on each project or task, enabling the managers to create better estimates and budgets for the future.
Modern time tracking software has powerful analytical capabilities and provides detailed reports on various data. Managers may get a thorough breakdown of each employee's activity insights like web activity, absence, presence, etc. In addition, the time tracking feature sheds light on the total work done throughout the day and the amount of time allotted for various projects, thus streamlining the entire workflow.
Attendance Tracking
Attendance track feature keeps track of who is present and absent from meetings and events. This information can help you plan future events and improve communication. It also enables your employees to view their tasks and projects in calendar format allowing them to identify gaps and make quick modifications.
Computer Monitoring
Computer monitoring is a method that allows employers to keep track of their employees' activities related to behaviors or actions on that device. This is done through software programs installed on computers at work sites. These programs can monitor how long employees spend working and what kind of information they access while at work. The screen capture feature of employee time tracker helps you to check on what they are working exactly and suggest alternatives. Employers can use this information to help them determine whether their employees are following company policies and procedures.
Project Management
You can employ time tracking software for planning, resource allocation, scheduling, and management to help your employees stay on track and complete projects quickly. Furthermore, the software allows you to visualize the completed, ongoing, and planned projects. This can help you determine your plan of action and identify the bottlenecks you should avoid before they become a disaster.
Summing It Up
Employee tracking software tracks employees' activity from their first day at work until they leave the company. This can help employers determine if their employees are working efficiently, how much time they spend doing certain tasks each week, and whether or not they are meeting their performance goals. There are many tracking software available with a myriad of available features. However, it's imperative to choose the one which best suits your requirement.
Discover Why Clockly Stands Out
#1
Get an instant preview of employee activities - timesheet, keystroke & mouse click logging
#2
Monitor in real-time by automatically capturing screenshots of employee's screen
#3
Take control of employee work hours for better project planning
#4
Utilize the project management functionalities to deliver your projects on time
#5
Add unlimited projects and manage all in one place
#6
Customize the screenshots interval and mouse / keyboard activities
#7
Integrate with popular project management tools such as Projectsly
#8
Automate payroll & expense claims with the online time-sheets
#9
Unbelievable pricing - the lowest you will ever find
#10
Everything your business needs - 50 apps, 24/5 support and 99.95% uptime
Join the SaaS Revolution
All-in-One Suite of 50 apps

Unbelievable pricing - ₹999/user

24/5 Chat, Phone and Email Support