Why Is it Safe to Use an Employee Monitoring Software?
Employee productivity is a major challenge for businesses today, particularly in the form of lost productivity at work. Employee monitoring system evaluations are crucial in assisting you in identifying the most suitable employee monitoring software for your needs. Employees misusing their rights occurs much too frequently, resulting in lost productivity for the business, missed deadlines, and a longer time to finish the task at hand.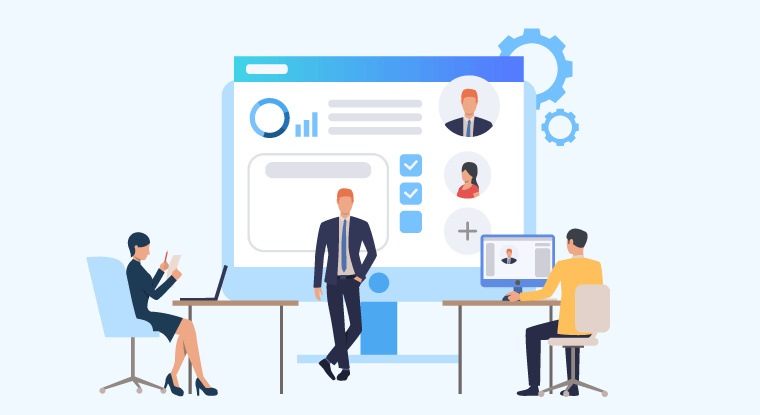 Employee monitoring software enables business owners and managers to oversee and monitor all of their employees' computers from a centralized location. Furthermore, there are several forms of employee monitoring software on the market. However, just a handful offer the features and capabilities that can improve the data security of your company.
Reasons Why Employee Monitoring Is Safe
1. Increases Productivity
The way an employee spends her time at work may have a huge effect on the overall productivity of your company. Employees will be less distracted and ignore their tasks if they are aware that their activities are being monitored. With employee monitoring software in place, the employees are aware that they may be monitored at any time and that their activities are recorded and reported. As a result, there is increased focus and improved employee productivity and efficiency. It will also show you how your workers are spending their time.
2. Data Security
All businesses are concerned about data and server security while working remotely. Managers, on the other hand, can find it difficult to know what their employees are doing, whether they are accessing harmful websites or connecting to untrusted networks, and how secure the company's data is. However, many of these may be avoided totally by effectively setting up employee monitoring. If it can't be averted, it can be blocked immediately, and the person who did it will be held accountable with adequate data on their activities.
3. Enhances Efficiency
When employees are watched and reports on their application usage are generated, they are more focused on work-related tasks. As a consequence, more time is spent on work and less on YouTube and social media, resulting in increased productivity. As a manager, with employee monitoring in place, being able to recognise problems as they emerge allows you to deal with the most pressing concerns right away. You save time and money fixing business problems this way, and you can increase the overall profitability of the company.
Ready to Monitor Employees with Clockly's Employee Monitoring Software? Sign Up 14-day trial
4. Stimulates Accountability
Several employers are hesitant to use an employee monitoring system because they are concerned that it would trigger employee dissatisfaction. While some employees resent being monitored, it is in their and their companies' best interests. Employees will avoid accessing unapproved websites or downloading dangerous applications if they are aware that their internet activities are being watched. This will also encourage employees to remain on task because their idle time will be recorded. Employees that are responsible and introspective find this tool valuable for self-evaluation of their work habits in a healthy working environment. Workers are frequently unaware of how much time they waste on less important chores and refocusing on work following an interruption.
5. Objective Judgement
Monitoring software not only serves as a foundation for efficient workflows and fine-tuned operations, but it also helps managers to identify the most dedicated individuals and teams, whether they work from home or in the office. Not all employees are the same. Some will work harder than the rest. This information is crucial for future task allocation, particularly in the event of high-profile campaigns with tight deadlines and large financial stakes. Using employee monitoring software, you may obtain reliable, dependable, and entirely objective data. You and your employees will have trust in your fairness, which will make it easier for you to make smart decisions.
When Should Your Team Use Monitoring Software?
Employers use the monitoring software for a variety of reasons. Some are,
To monitor and prevent sharing of unauthorized and harmful files

For quality control, that is, to keep an eye on the quality of employee communications

To discourage and prohibit the use of unprofessional or obscene language in the workplace

To monitor and forbid the use of professional email accounts for non-work purposes.

To fulfil cybersecurity requirements
What Data Can Monitoring Software Gather?
The employee monitoring software gathers details like the time of the first and final activity, all logins and logouts, active and idle periods, productive and unproductive software use, overtime, inadequate working hours and much more.
A Solution for Remote Employee Monitoring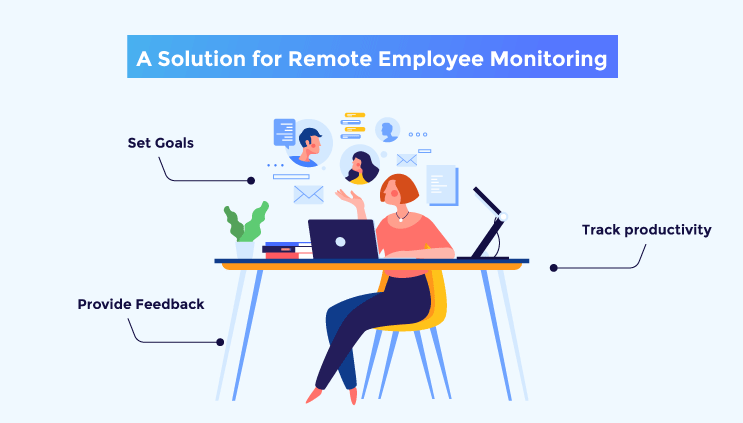 Let's discuss some strategies to monitor remote employees.
1. Set Goals
Your employees must be aware of how and when the task should be completed. Your remote employees will be able to perform the task more effectively if you set clear expectations. They must be aware of when they should submit their work, especially if the project is time-sensitive. With the aid of different employee monitoring software, you can quickly assign activities.
2. Provide Feedback
Give your team regular feedback so they may learn about their own strengths and flaws. Your workers will be able to improve their work and production as a result of this. They will also be able to see where they are falling short and what they need to do to improve.
3. Track Productivity
Tracking your remote employees' productivity, in addition to their short- and long-term goals is the greatest approach to verify that they are working full-time. Examine if they do their jobs on a regular basis and provide you with updates on their progress. This way, you'll be able to see how easily your staff do their tasks.
Summing it up
It's beneficial to be upfront with your remote staff about your monitoring practices. You and your team will develop mutual trust and respect in this manner. More importantly, you must obtain their permission and explain why you monitor their work behavior. It is essential to explain why it is safe to utilize employee monitoring software and how it may help them be more productive while also protecting the data of the team.
Finally, we recommend you try Clockly, our time tracking software to verify that your company's employee monitoring is secure. Sign up now to boost your employees' productivity and get the most from them.
Discover Why Clockly Stands Out
#1
Get an instant preview of employee activities - timesheet, keystroke & mouse click logging
#2
Monitor in real-time by automatically capturing screenshots of employee's screen
#3
Take control of employee work hours for better project planning
#4
Utilize the project management functionalities to deliver your projects on time
#5
Add unlimited projects and manage all in one place
#6
Customize the screenshots interval and mouse / keyboard activities
#7
Integrate with popular project management tools such as Projectsly
#8
Automate payroll & expense claims with the online time-sheets
#9
Unbelievable pricing - the lowest you will ever find
#10
Everything your business needs - 50 apps, 24/5 support and 99.95% uptime
Join the SaaS Revolution
All-in-One Suite of 50 apps

Unbelievable pricing - ₹999/user

24/5 Chat, Phone and Email Support