Top Online Timesheet Software to Try in 2022
For most businesses and organizations, manual time tracking can be quite challenging. But with an excellent time sheet software, things can run smoothly and faster. Learn more about the best online timesheet software and improve your business productivity.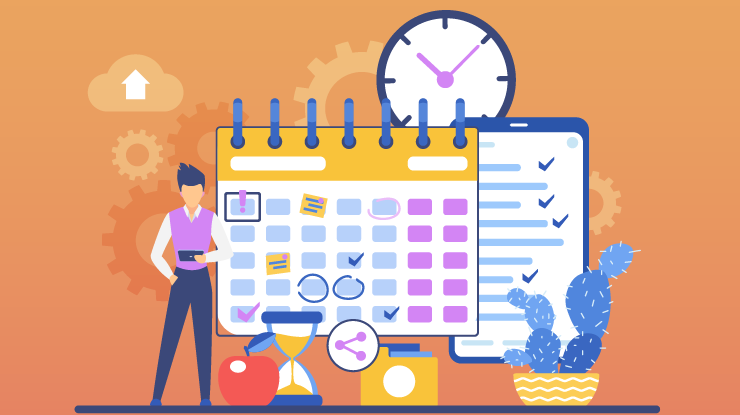 If you are tired of the tedious process of tracking time manually, you are not the only one. Keeping abreast of hours spent by employees is a challenge faced by many business organizations.
However, the good news is that with the right online timesheets software, you can automate the entire time tracking process, boosting productivity across the board.
15 Best Online Timesheet Software
1. Clockly by 500apps
Clockly is a great time tracking and employee monitoring software to significantly increase employees' productivity with location tracking, online timesheets, screenshots, and payroll management. It is an accurate, online timesheet software that allows you to track your employees' time to complete tasks assigned to them.
Eliminate Tedious Paperwork and Better Manage Online Timesheets Using Clockly Sign Up 14-day trial
It also enables you to gain an insight into your team's performances, review manual activities and billable hours, manage your payments with stress-free payroll integration and management, make appropriate decisions to help your team improve its productivity levels, and much more.
According to Capterra, Clockly is a software for time tracking that boosts team productivity and is best for all business types.
It includes GPS tracking, URL and apps tracking, screenshots of activities, and more suitable for Windows, Mac, and Linux. Click on Pricing to view prices and learn more about the software.
2. Hubstaff
Hubstaff is an easy-to-use employee time tracker and online timesheet software,with several features. Hubstaff provides screenshots, timesheets, billing solutions, and in-depth reports. With it, you can view who is presently working and control or influence every setting, even down to the lowest level.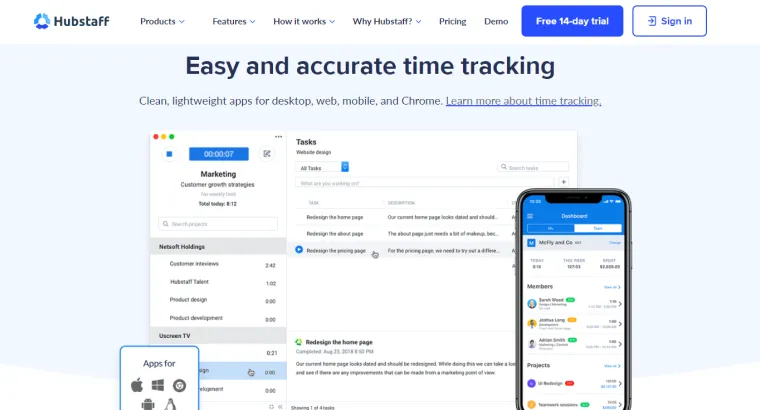 Hubstaff guarantees you 100% accuracy, and it gives you control over the money spent on projects with a weekly budget, saving you time and money. Its online timesheets help you keep track of employee hours with desktop and mobile apps. It combines tracking, billing, and payroll for accurate timesheet documentation, and it allows you to know your employees' location in real-time.
Hubstaff permits you to keep tabs on time through web, mobile apps, and websites, and it is also very simple and easy to use. Hubstaff is an easy-to-use, feature-rich, time tracking software that is designed to be more useful thanks to its project administration features. Its focus on efficiency makes it worth considering for work-at-home workers and disseminated teams.
3. Timesheet
Timesheet allows you to record your hours with the simple click of a button, manage project time, and export hours to excel. Its features include mobile access, expense tracking, supervisor approval, time off, and many more.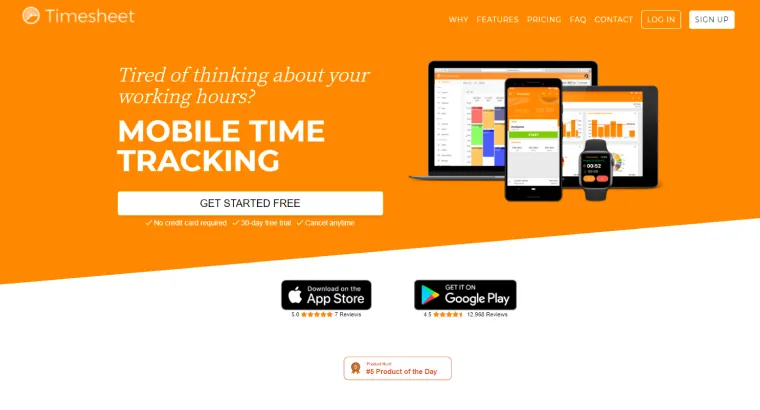 With its well-organized platform, you will get improved transparency to track your team comfortably. You will also get access to billable hours along with the cost of the hours, giving you complete control. Timesheet app helps you manage your teams and projects, and you will always have an overview of your business with its team feature.
4. Toggl
Toggl is a productivity time tracking tool with a simple time tracker and powerful reports. It allows you to send email reminders to employees to track their time or hit their targeted hours, set required fields so information is correctly submitted, and schedule alerts to stay within budget. It also permits you to track the number of hours spent on various project execution and analyze your team's productivity.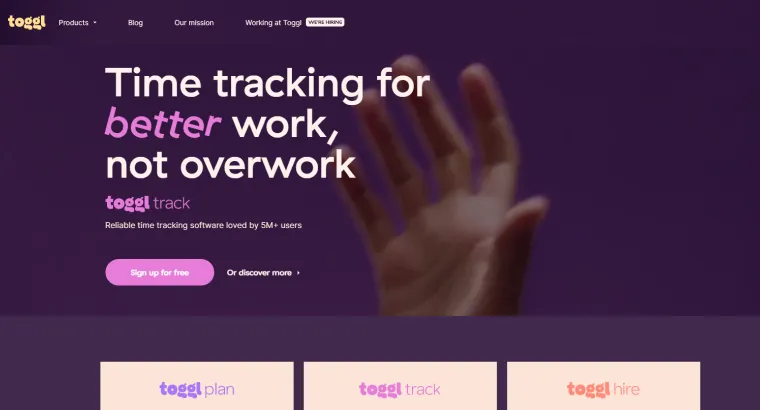 You can use the tracking tool on your mobile, the web, and desktop. It has advanced features like idle detection, tracking reminder, and Pomodoro timer.
5. TSheets
TSheets is an employee tracking solution that automates time tracking processes to save you time and money and ensure payroll accuracy. It includes a digital time clock solution and a mobile app. It makes it easy to track employee hours, and it allows you to gain important business insights with interactive and real-time reports.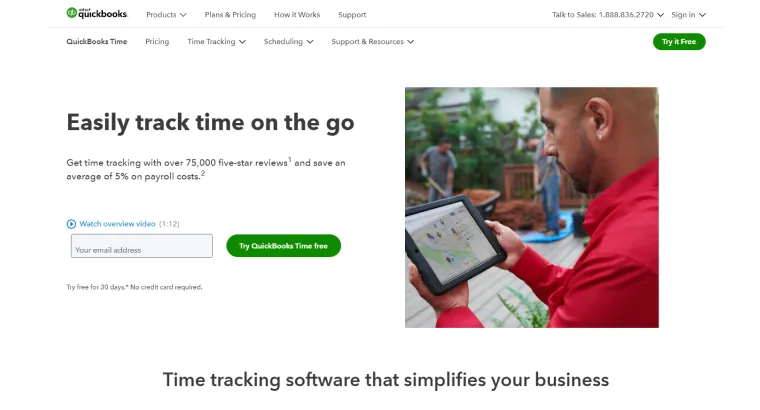 Tsheets features customizable fields that permit advanced time tracking, a 'who is a working window,' geofencing properties, and a user-friendly interface.
6. Harvest
Harvest offers time tracking, reporting, and investing for a variety of industries. Harvest makes it easy to track time and expenses, allowing you access to critical data. It allows you to turn your billable expenses and time into professional invoicing, collate, send them to clients, and get paid for them online.
Harvest's major features include team management, scheduling, project management,invoicing,and time and expense management. It provides you with real-time access to on-time information, budgets, projects.
According to "Harvest time tracking tool helps track time and enables employees account for their work and balance the need of different stakeholders."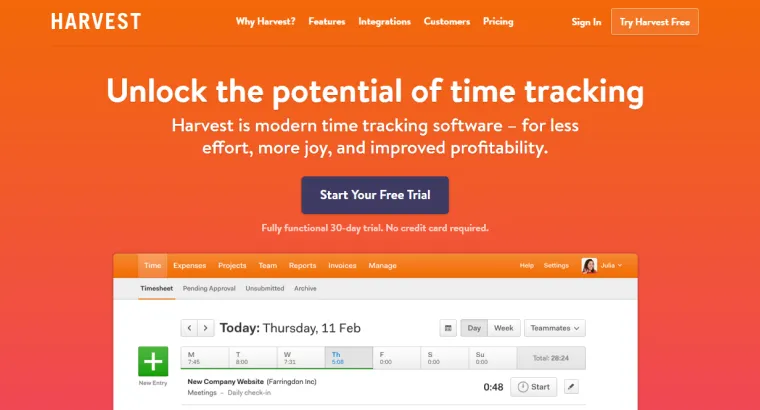 7. Timesheets.com
Timesheets is a online timesheet software for time tracking for employees and features GPS for mobile devices, expense tracking, and HR management. It has a powerful time reporting feature with over fifty customized reports to help you gain complete control of payments and billings.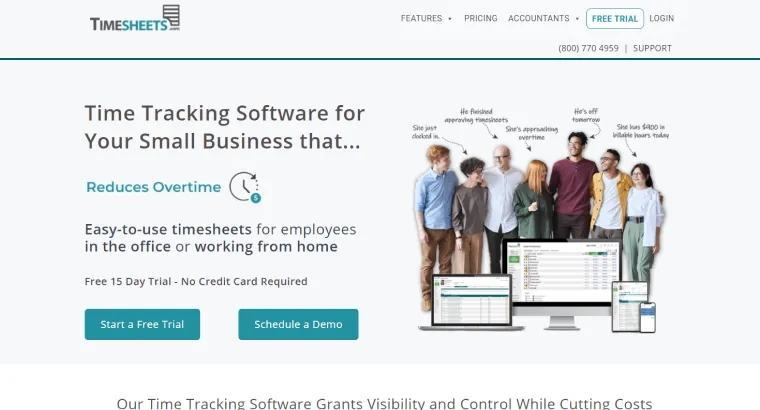 It is for both workers in the office and those working remotely.Its leave management platform handles supervisor approvals, workers' requests, and accumulating calculations.
8. Everhour
Everhour is a Software for time tracking for budgeting, scheduling, invoicing, expense tracking, and reports. You can create more accurate and less time-consuming timesheets with its time tracking timer as you work on projects. With the Everhour tracking tool, you can accurately estimate the time to complete tasks and use its built-in-clock to follow the time against the estimated time.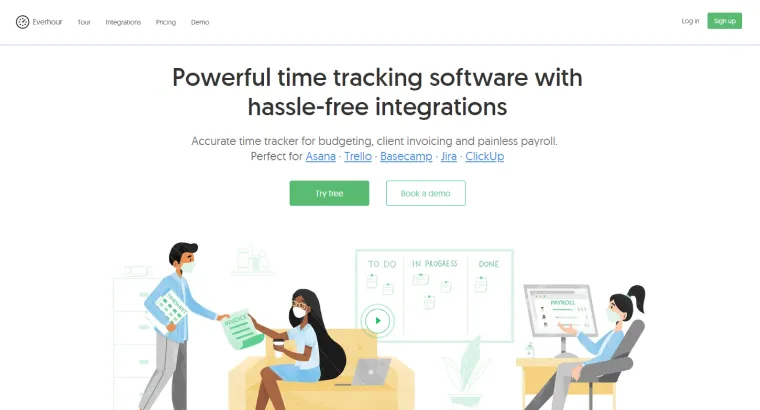 Everhour allows you to watch and track your budgets, and it gives an easy-to-read financial pictorial representation of your projects.
9. Zoho Projects
Zoho Projects is an online project management software to create and manage projects efficiently. It permits you to enter and store billable and non-billable hours with the timesheet module, either automatically or manually with timers. It also allows you to plan your project actions, assign duties, efficiently collaborate with your employees wherever they are in real-time, and finish projects successfully.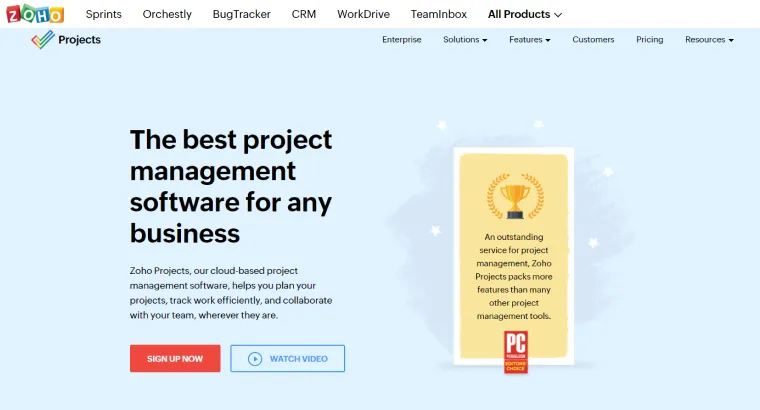 Zoho Projects feature a project management tool with an interface that makes new automation easier to deploy and visualize. With this software, you can set up custom fields, statuses, workflows, and layouts to easily execute tasks particular to your work.
10. Scoro
Scoro is business management software that brings teams, projects, sales, and reports together. It features work scheduling and tracking that allows quick overviews of your team's time, including their calendar and completed tasks.
It enables you to quickly deliver high-quality work by scheduling, tracking and planning all your projects in a single place. It also helps you get an outline of your project library in its entirety, stay up to date with project details, billable time spent, budgets, costs, timeline, activities, and more.
11. BeeBole Timesheet
BeeBole is an easy and flexible timesheet platform for businesses to make better decisions. BeeBole Timesheet allows for time tracking, rate setting, budgeting, and report generation. It allows you to get complete control with computerized reminders, administrative access, and flow of approval.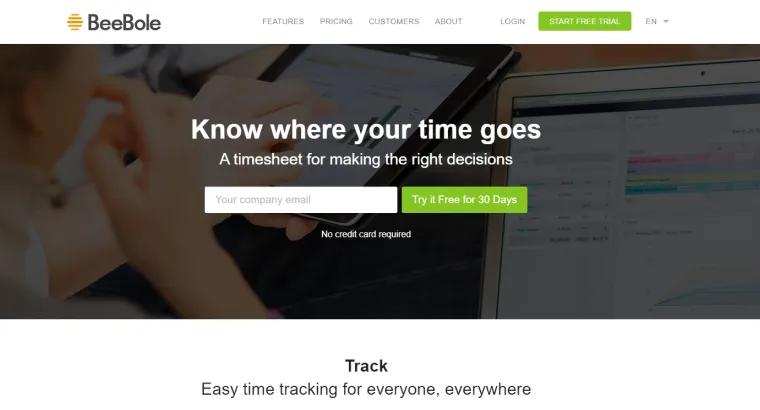 With Beehole, you can set up a customized dashboard and produce employee reports on attendance, billable hours, profits, and budget.
12. Avaza
Avaza is another all-in-one HR and project management software for professional teams. It now offers online timesheets with time tracking, which allows you to track time by task or project. It is a productive software that allows you to join forces on projects, track time effectively, manage expenses, send invoices to customers, and schedule resources.
According to Josh Angret, Manager-Client Services, Avaza is a great user-friendly management tool consisting of all the important parts in an easy-to-use interface. With it, you can easily track your progress on project results and make sure you stay on time and under budget. Avaza's customer support service is first-class.
13. Replicon
Replicon is an all-in-one time tracking solution for project billing, attendance, and time off. Its online timesheet software captures and tracks time; however, you want prebuilt or custom templates for projects, tasks, or activities.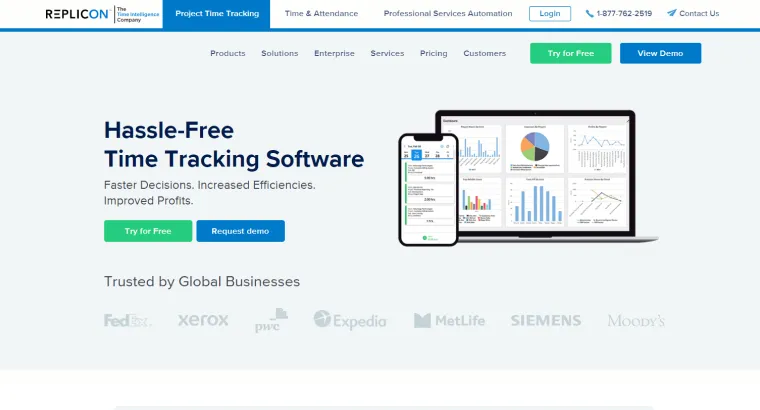 With Replicon, you can create, manage and track all your company projects from one end to another, get insights into people, projects, and other metrics, get a complete view into all client grades to perform better, and many more.
14. ClickTime
ClickTime solution offers an easy way to track, manage, and get an outline of employee time with simple timesheets and powerful reports. It includes an employee timesheet app to make online timesheets easier for your employees. The app is intuitive and easy to review, and you can edit entries from anywhere with it.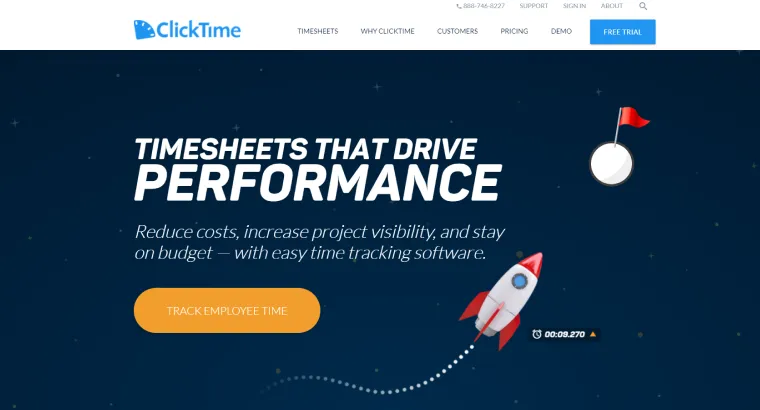 ClickTime increases project visibility reduces costs, helps you stay under budget, and gives you answers to questions about your company - past performances, project costs, etc.
15. Paymo
Paymo is a work management platform that includes many features to help your manage your business' workforce, including online timesheets. Paymo's timesheets offer a calendar view of timesheet data and allow for drag and drop actions to easily add and move time. It features automated time tracking and an integrated online timer.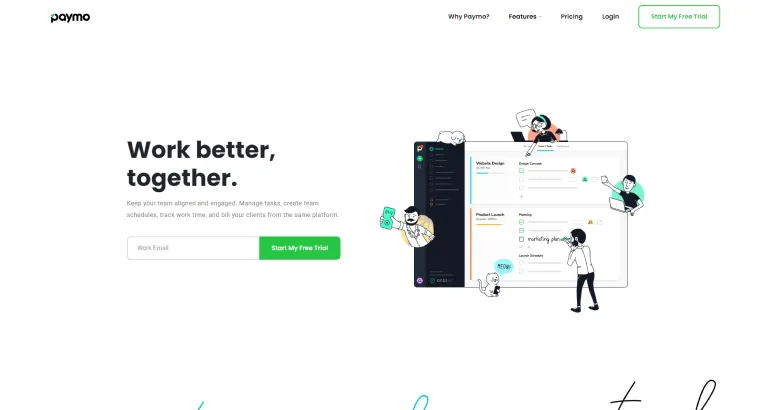 Paymo allows you to get live time reports and keep clients up to the minute about the progress of projects through live reports and visual reports.
Conclusion
Online timesheet software can help you keep track of the time and money you spend on projects and for your business overall. They help you keep track of billable time and expenses, projects progress, collaborate with workers anywhere, keep your clients abreast of all about projects, and many more. Plus, time tracking offers you a secure way to store data and generate reports based on different criteria, saving you time and money.
Whether you are just starting or you've been in business for generations, implementing an effective online timesheet software like Clockly is going to make a huge difference in your day-to-day administrative duties. Test-run time tracking software, Clockly with a its free plan and get an insight into how a timesheet software works.
Discover Why Clockly Stands Out
#1
Get an instant preview of employee activities - timesheet, keystroke & mouse click logging
#2
Monitor in real-time by automatically capturing screenshots of employee's screen
#3
Take control of employee work hours for better project planning
#4
Utilize the project management functionalities to deliver your projects on time
#5
Add unlimited projects and manage all in one place
#6
Customize the screenshots interval and mouse / keyboard activities
#7
Integrate with popular project management tools such as Projectsly
#8
Automate payroll & expense claims with the online time-sheets
#9
Unbelievable pricing - the lowest you will ever find
#10
Everything your business needs - 50 apps, 24/5 support and 99.95% uptime
Join the SaaS Revolution
All-in-One Suite of 50 apps

Unbelievable pricing - ₹999/user

24/5 Chat, Phone and Email Support