The Top 5 Attendance Tracking Software for Small Businesses
Keeping track of employee attendance is crucial for all organizations. However, the basic requirement is getting hold of the right systems to track the attendance accurately. Attendance tracking can be an arduous task for small businesses since there are a lot of minute details that need to be taken care of.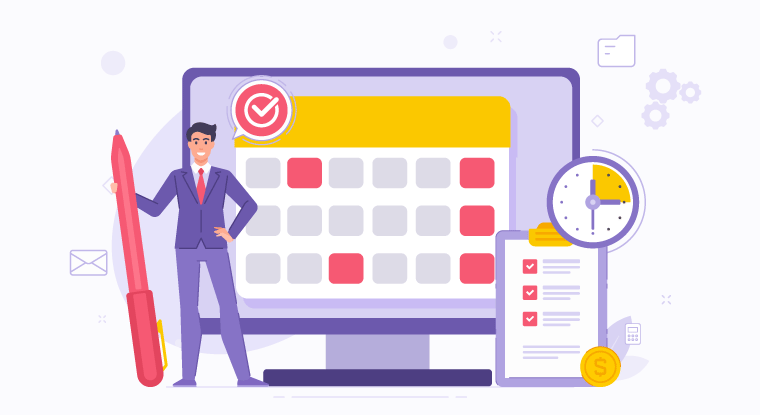 An attendance tracking software is a great way to keep track of your employees' attendance that can help you save money by not having to pay overtime wages. The software helps you manage your business better by cutting unnecessary expenditures and complying with local laws.
What Is Attendance Tracking Software?
Attendance Tracking is a system that allows employees to track their attendance in real-time. This software can help employers keep a record of attendance , monitors employee productivity, and manage payroll.
By identifying any potential issues before they become a problem, attendance tracking can help companies know what changes they need to make changes to improve employee performance. This system helps managers monitor employee performance, productivity, and behavior. Companies use this information to increase employee satisfaction, decrease absenteeism, and reduce turnover rates. This allows you to know who is doing what and how much they are contributing to the success of your business. You can use this information to make decisions about employee performance, promotions, salary increases, etc.
Attendance tracking software is a vital tool for any organization that requires employees to work regularly. In addition, employers can use attendance tracking data to improve their hiring practices, identify employee misconduct, and ensure compliance with labor laws. An attendance tracking software is designed to be simple to understand and use.
The Benefits Of Using Attendance Tracking Software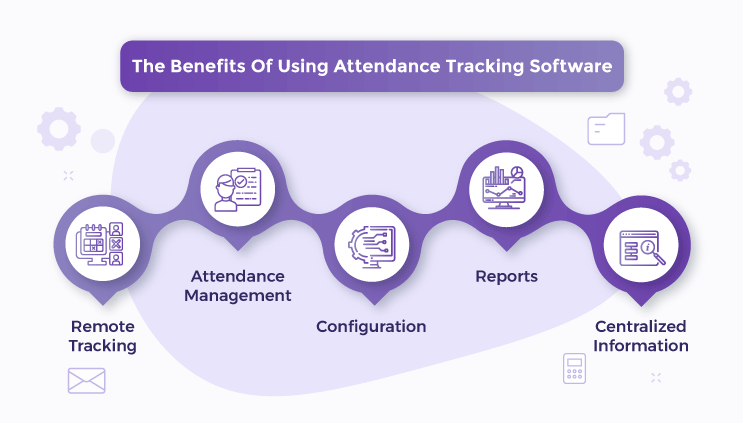 Remote Tracking
Attendance tracking software allows businesses to monitor remote employees working at different locations. This feature allows you to create reports that show how long workers spend at each location, what they do there, and whether they are meeting deadlines. Thus, companies can improve work efficiency, reduce time theft, and increase productivity.
Attendance Management
Attendance in each task can be tracked through the system, allowing businesses to better understand how much work they are getting done. Attendance tracking software maintains a database of employee attendance which helps companies manage their employees' shift time more efficiently and, at the same time, helps you keep track of employees' work hours, leave balance, etc. This can be customized according to the team's requirements.
Revamp Your Attendance Tracking System with Clockly Sign Up 14-day trial
Configuration
An attendance tracking software can create and configure work shifts. The permissions can be configured to mark attendance, track overtime work, send emails to employees who miss work, submit on-duty requests, and allow employees to request time off.
Reports
All the information obtained through attendance tracking software can be used to generate useful reports for managers and supervisors. In addition, this system can deliver accurate payrolls and help reduce human error. The software also allows the creation of insightful reports in the form of Excel and CSV files. The tracking is completely web-based so that the reports can be accessed at any time.
Centralized Information
You can manage all information about the employees, like personal information, in one place with attendance tracking software.
The Top 5 Best Attendance Tracking Software Solutions
Clockly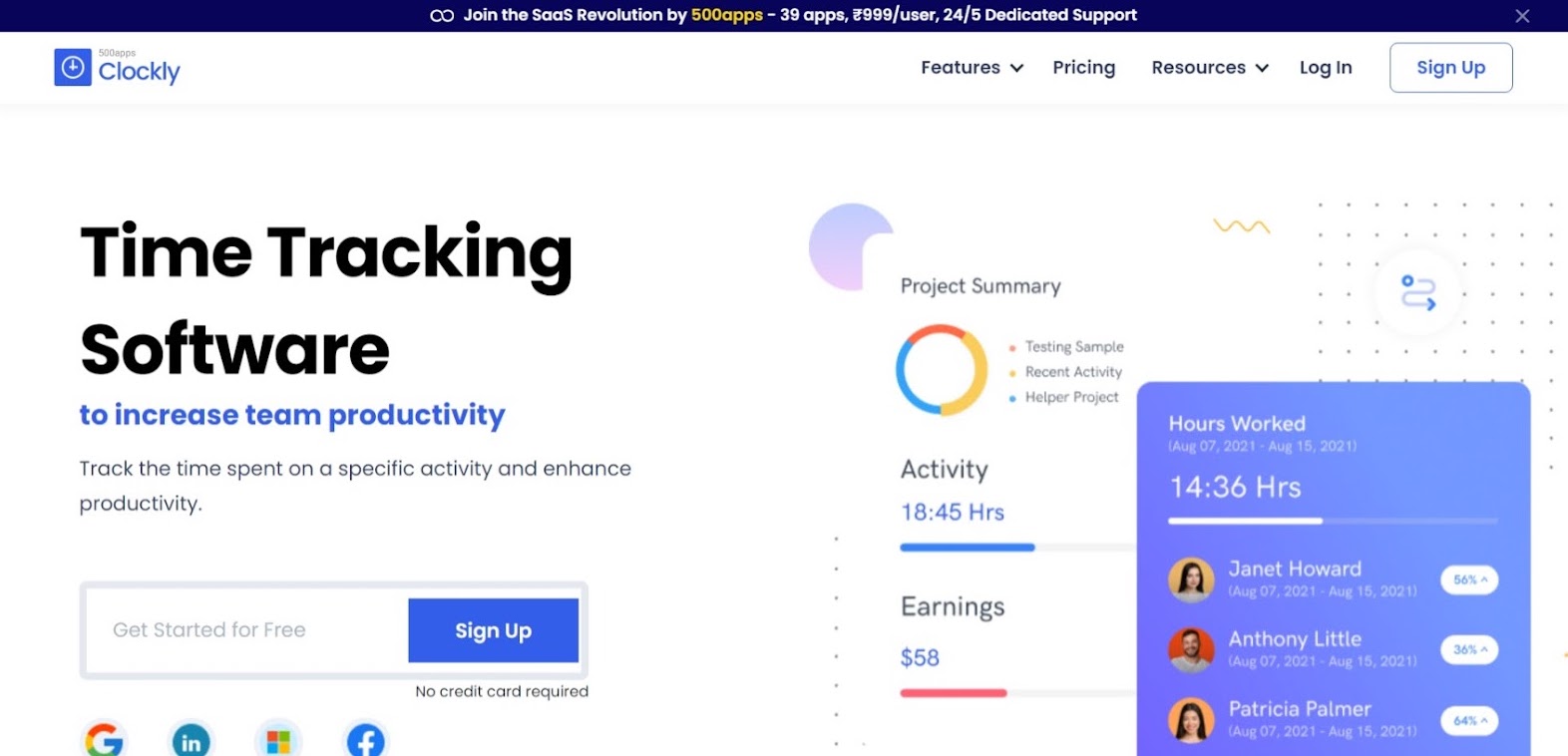 Clockly, by 500apps, allows you to check the performance of your team with time tracking software, which increases productivity and saves time. In addition, you can use the timesheet feature of the app to track attendance and identify how much time an employee has worked throughout a certain time period. You may also use the software to track the time required to complete a project, which in turn can help you draft an accurate invoice for your clients. All these functionalities contribute towards increasing the overall productivity of your company.
HRSprout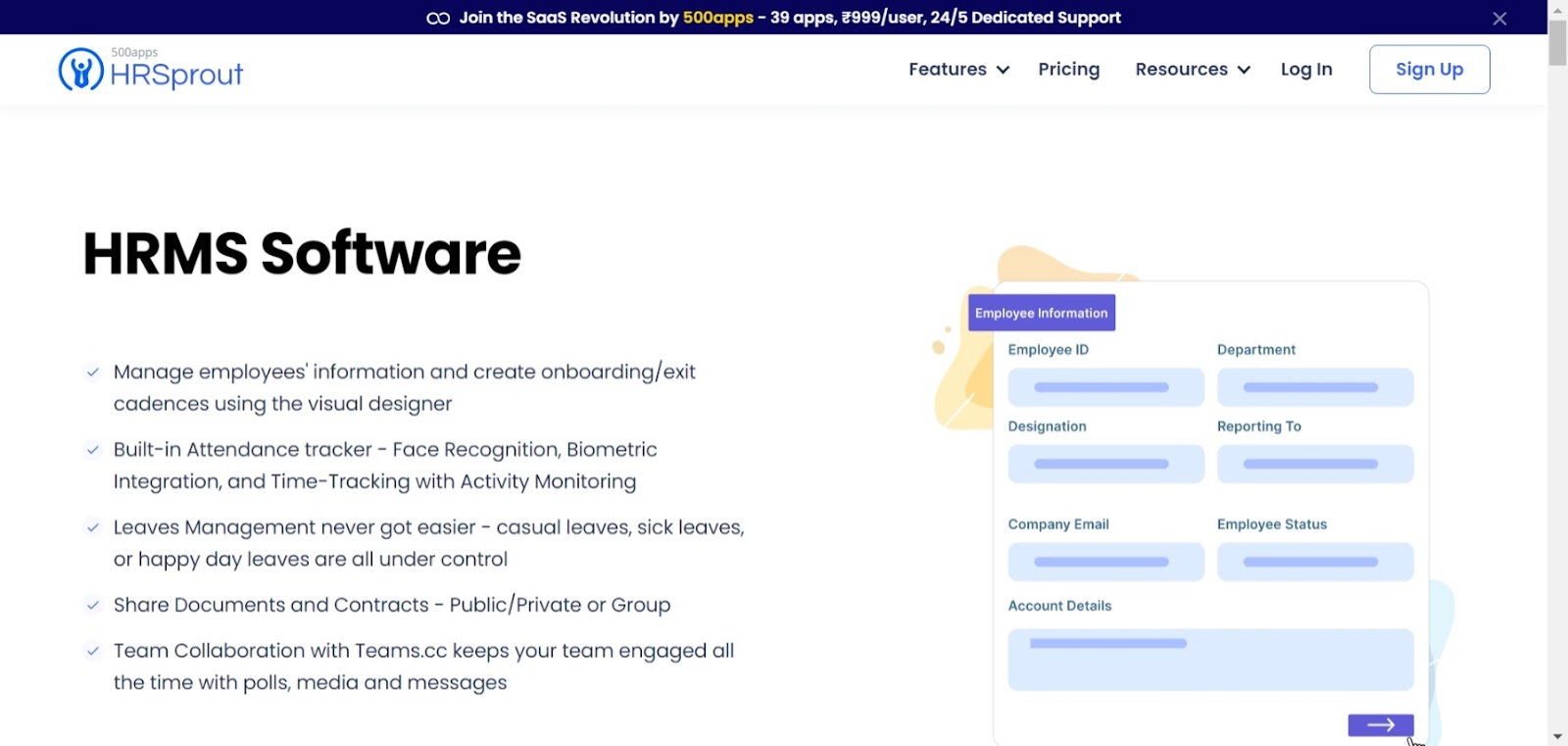 This attendance tracking software created by the developers of 500apps offers a variety of features, including employee management such as searching and adding employees, leave management for tracking and approving leaves, online scheduling of shifts through attendance management, and tracking real-time attendance and work hours. Their clients include small businesses and large enterprises alike. The app's platform connects people and can manage information about leaves, employee onboarding, and resignations. This software innovatively automates business operations by conveniently managing human resources and productivity.
Zoho People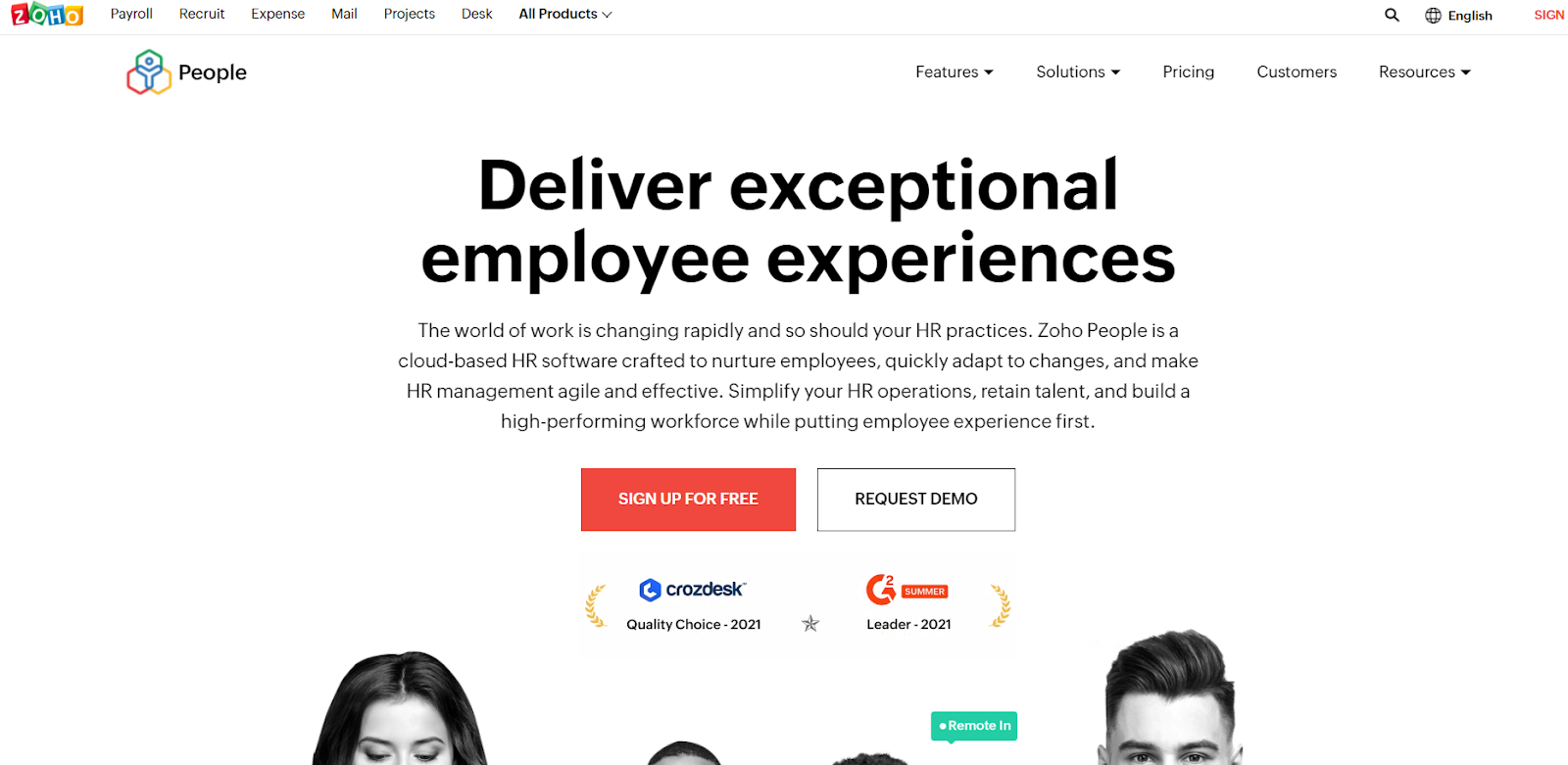 Zoho People Attendance Tracking software is a cloud-based application that allows users to track employee attendance, time off, leave requests, and vacation days. This helps businesses save money and improve productivity. With this tool, employees can sign in and out from any computer or mobile device, including smartphones and tablets.
CakeHR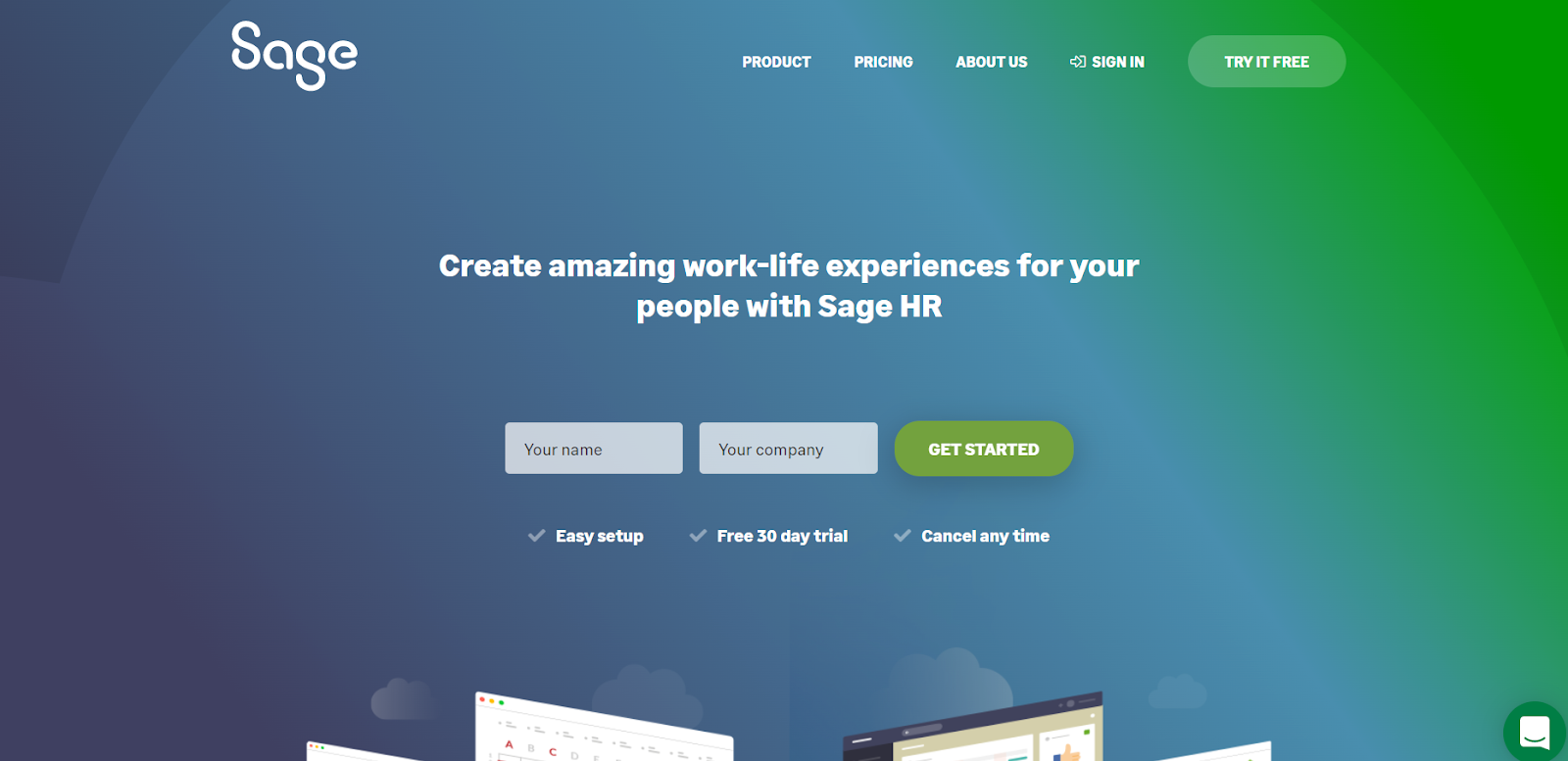 This system allows you to track your employees' attendance and leave times. You can set up several shifts per day and allow your staff to clock in and out at their convenience. The application has a user-friendly interface that makes it easy for you to manage your staff's attendance with just a few clicks.
DeskTime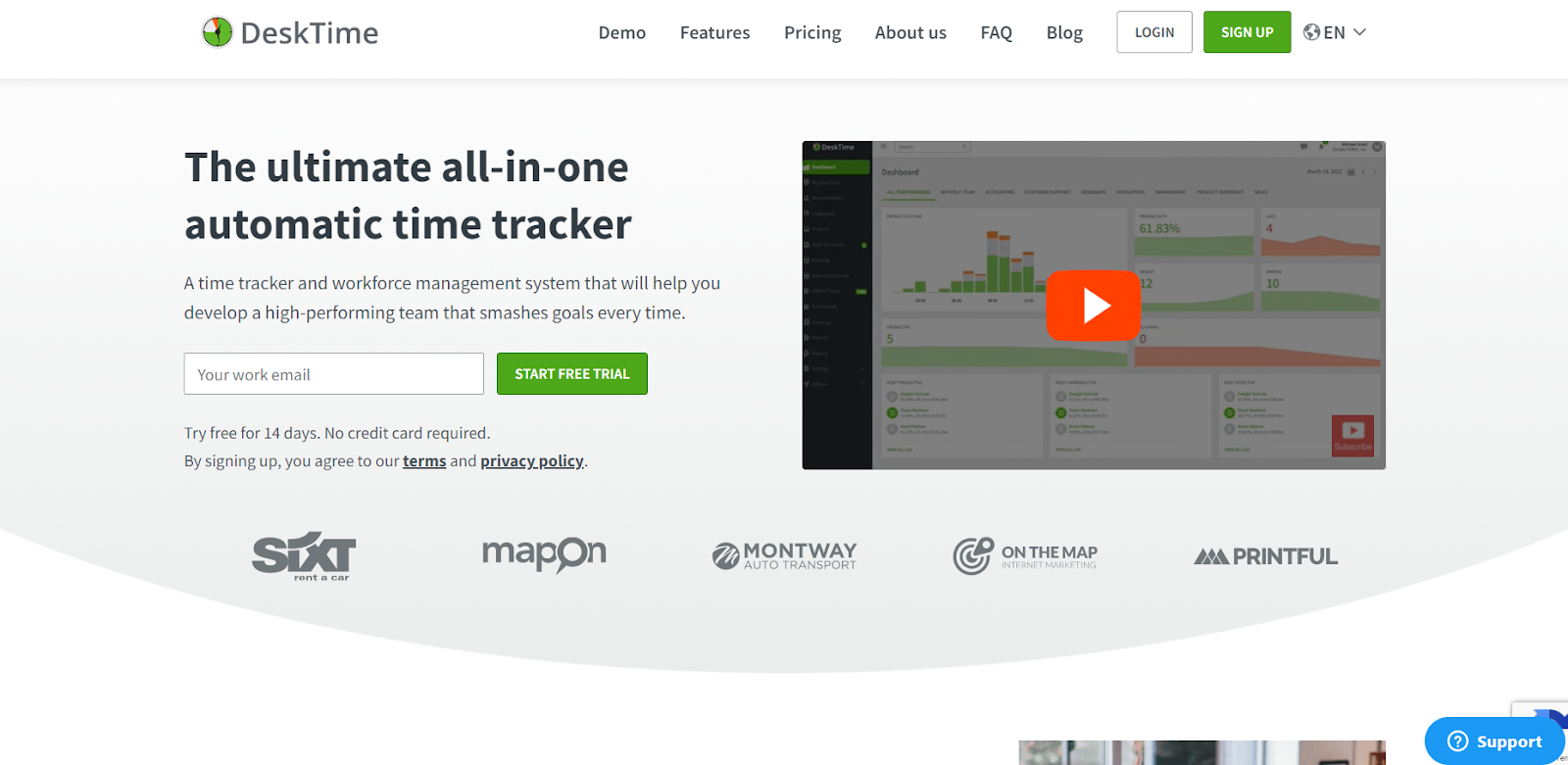 This software gives you reporting features that help you review how productive each team member is throughout the week. The tool records time periodically and allows you to access those times remotely through your device. It offers real-time payroll monitoring, automated time & expense reports, time and attendance tracking, and much more.
How To Choose The Right Attendance Tracking Software Solution For Your Business?
The following are some useful tips that can help you choose the right attendance tracking software for your business.
Make sure that the software meets your specific needs. Look for features like seamless integration of biometric systems, easy generation of reports and rosters, etc.

The software should allow easy access to employee information such as ID proof, designation, department, etc.

Some companies offer free trials of their software for a limited period. If you like the software after using it for a while, you can buy it and incorporate it into your business.

See if the software is employee-friendly and whether it allows them to view their schedule and leaves, and access timesheets.

Check if the software provides access to other company information like payroll and benefits.

Consider how much time and effort you are willing to put into installing and setting up the software. Some programs require minimal installation and setup, while others take longer.
Summing It Up
Attendance Tracking Software is one of the best attendance management tools that can help employers track employees' attendance and productivity. There are many different types of attendance tracking software available today. Each type of attendance tracking software has its benefits and drawbacks. Whether you run a small business or large, you may want to consider using an attendance tracking system along with a time tracking software that allows you to monitor multiple locations and employees simultaneously. To put it all together, installing the right software for your company can entirely revamp the employee management system, thus boosting the efficiency of your business.
Discover Why Clockly Stands Out
#1
Get an instant preview of employee activities - timesheet, keystroke & mouse click logging
#2
Monitor in real-time by automatically capturing screenshots of employee's screen
#3
Take control of employee work hours for better project planning
#4
Utilize the project management functionalities to deliver your projects on time
#5
Add unlimited projects and manage all in one place
#6
Customize the screenshots interval and mouse / keyboard activities
#7
Integrate with popular project management tools such as Projectsly
#8
Automate payroll & expense claims with the online time-sheets
#9
Unbelievable pricing - the lowest you will ever find
#10
Everything your business needs - 50 apps, 24/5 support and 99.95% uptime
Join the SaaS Revolution
All-in-One Suite of 50 apps

Unbelievable pricing - ₹999/user

24/5 Chat, Phone and Email Support