Best Online Time Trackers for Small & Medium Businesses
Things like signing your documents, scheduling your meetings, timing your employees' hours and work activities can now be done through simple and easy to use the software. As a small or medium business owner, each of these activities is very important to the growth and success of your business.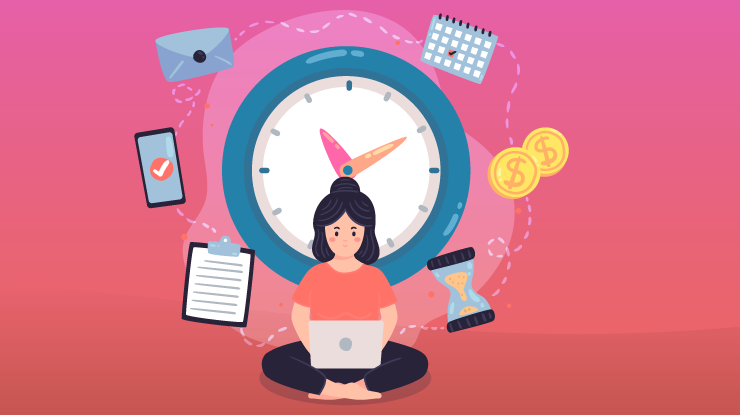 It is time to grow your small and medium business by transitioning your business activities and operations into technological business solutions. Sign documents, schedule meetings, time employee's hours and work activities through simple and easy-to-use software. As a small or medium business owner, each of these activities is very important to the growth and success of your business.
For example, time tracking. You should have a method of tracking the time you and your employees use at work and the activities done within that time. It is an excellent help at measuring employee productivity and keeping a check on your employees. This quote by Marley Majcher, a small business coach and strategist, agrees with us. It says,
"Track all of your time (& your staff's time) and see where it's going.
With online time trackers as a technology solution to manual methods, you can simplify the time tracking process for your business and significantly increase its effectiveness.
What is an Online Time Tracker?
Ordinarily, time tracking is a record and time monitoring process that allows you to monitor and record how much time you, an employee or a team spends on a specific task or a project. It could take place through manual writing on paper or spreadsheets. With the advent of technology, online time trackers have taken over the manual tracking process. In fact, over 40% of businesses in the US use software for time tracking, and this is a number that keeps rising.
Choose Clockly the Best Online Time Tracker Sign Up 14-day trial
Online time tracker can be integrated into several aspects of business operations such as project management, accounting, etc. It allows data input and synchronization, so you have a more straightforward and faster method of tracking what your employees are doing and their performance at any given time.
Benefits of Using Online Time Tracker
You know what time tracker is and what they can do. But as a small and medium business owner, what benefits can you reap using the best time tracking software? Here are five of the benefits they can bring to your business:
They can help you to monitor employee performance, and their active and completed projects.

Using the best online time trackers can help to ensure that you have efficient time planning for your projects so that activities are well spaced, and projects are finished on time.

They will help you to appropriately price your work. With time tracking, you know how much time is spent on clients' work, which helps you to calculate the bill for work done and have accurate budgets for similar work in the future.

The best time trackers can help you to have project priority and monitoring. You would know which jobs are urgent, which need more work, which are almost completed, etc.

Software for time tracking curb the menace of rounding of hours and buddy punching, which reduce payroll hours by 10 to 22%.
The 7 Best Online Time Trackers
There are hundreds of efficient time trackers but to scale your business, you need only the top time tracking apps. To help you, we reviewed many of the software for time tracking in the market and shortlisted the 7 best online time trackers for you. These can take your business growth to new heights, and our first app in the list is a special recommendation that offers high-quality features at an affordable price for your business. Here are the top seven:
1. Clockly
Clockly is a time tracking software in the 500apps business suite. This simple, precise, and intrusion-free time tracker helps your business grow by providing insight into how your employees perform their assigned work. We ranked it as number one in the best online time trackers because of the premium features it has to offer. These features include:
Accurate and detailed performance and project broadsheets that you can export

Reports on employee performance on their work over specific periods

Live and remote monitoring of employee performance

Project planning and management

Creation of work schedules and payroll management
These are just some of the features that Clockly has that can impact the performance and growth of your employees and business. You can get the software for very affordable pricing, and it comes as part of a business suite, so if you subscribe and pay for Clockly, you are getting more than thirty other apps to scale your business.
2. Connecteam
This is one of the best online time trackers for simplifying and automating payroll processes and work time tracking. It offers you supervision and oversight over your employees and their work once they have logged onto the software. With this software, you and your employees can sign in and out of work with a GPS time stamp, view timesheets, reports, communicate and manage tasks.
It is perfect for businesses that operate with remote employees as it helps to erase the need for a physical work location. With the GPS time clocking and real-time employee status and location monitoring, you can get accurate insights into how your business resources are being used on the various jobs assigned to them. It can also help you to have more precise billing and invoices for your customers. It has a 14-day free testing period and premium plans for your business that offer the first 50 users access for $39 per month.
3. Time Doctor
Time Doctor is a full-service time tracker that offers quality monitoring and management features for your employees and projects. It is one of the best online time trackers for remote workers as it allows you to assign tasks from afar and supervise the work and keyboard activity. Apart from work monitoring and supervision, you get features such as performance and time tracking reports, alerts for time exceeded on projects, random screenshots to check progress and performance later, project budgeting, offline time tracking, payroll and budgeting services.
Time Doctor offers all these features at very affordable pricing for small and medium businesses that don't have much to spend. Their plans include basic, standard, and premium, ranging from $6 to $17 per month for a single user.
4. Timecamp
Timecamp is a time tracker that is easy to use and offers automatic processes that can be used by small and medium businesses and freelance workers. It provides a desktop app that is non-intrusive and allows your employees to focus on work while their time and performance are tracked. It also offers timesheets that report on hours worked and activities are done within that time.
Its features include project management and reports, payroll management processes, accounting, and sales tools integrations, employee attendance recording, etc. It also offers these features at one of the most affordable pricing amongst the best online time trackers, which is $7 per month for a single user, and also offers a 14 day free trial for new users.
5. Clockify
One of the best online time trackers in the market is Clockify, and this is because of its simplicity in time tracking and project management. Once you or your employees log in to the software, they can access a list of their entries, time tracked, and projects completed or active. You can edit this information, add tags to projects, and have real-time access to projects and activities that are being worked on.
Clockify offers premium features for small and medium businesses, such as idle time detection and alerts, Performance and productivity reports, offline time logging and tracking, time auditing and editing, and more. It also allows integrations with several apps like G Suite, Freshbooks, and many others to make the scheduling and payroll processes available to you without extra effort.
It has a free version with limited control over these features and a paid subscription that offers you more control and supervision over what your employees can see and edit and advanced alerts, reports, and management. The paid version is available from $4 up to $12 per month for a single user.
6. Toggl
Toggl is one of the best online time trackers because it offers the best features and is straightforward to operate. It sends you a reminder to start or end the timer and allows the option for manual time and project entry, and calendar integration. It also offers you a variety of plans that vary between project planning and management, Time tracking, and screening and hiring of candidates.
Its features include third-party app integration, automatic time entries, project templates and planning, employee hiring processes, project reports, etc. Toggl is very useful for freelance workers as it offers personal accountability, small and medium businesses and is a very affordable software. It has a free trial period of 30 days and a paid plan that starts at $10 per month for a single user.
7. Timely
As one of the best online time trackers for small and medium businesses, Timely offers automatic time tracking that monitors and records all employee activity and project progress and stores the information in its memory tracker for future referencing and accurate time logging.
The Timely software details the employee activity and adds automatic tags to the work projects. Its features include third-party app integration, project tracking, recording of task progress. It offers a free 14 day testing period for new users and paid plans that start at $10 per month for a single user.
Conclusion
With all the benefits that time tracking software offers to small and medium businesses, there is no doubt that incorporating the best online time trackers into your business operations will have a positive impact on the productivity of your employees and the growth of your business.
Although many apps offer software for time tracking, our top seven are indisputably the best online time trackers with all the necessary features that your business needs. You can also take our top recommendation, Clockly, for a test run if you want an all-in-one app that offers you premium features at a budget-friendly price for your business.
Discover Why Clockly Stands Out
#1
Get an instant preview of employee activities - timesheet, keystroke & mouse click logging
#2
Monitor in real-time by automatically capturing screenshots of employee's screen
#3
Take control of employee work hours for better project planning
#4
Utilize the project management functionalities to deliver your projects on time
#5
Add unlimited projects and manage all in one place
#6
Customize the screenshots interval and mouse / keyboard activities
#7
Integrate with popular project management tools such as Projectsly
#8
Automate payroll & expense claims with the online time-sheets
#9
Unbelievable pricing - the lowest you will ever find
#10
Everything your business needs - 50 apps, 24/5 support and 99.95% uptime
Join the SaaS Revolution
All-in-One Suite of 50 apps

Unbelievable pricing - ₹999/user

24/5 Chat, Phone and Email Support