Best 15 Online Timesheet Software For Your Business
Online timesheet software helps brands maintain productivity while tracking employee time and activity. Automate payroll for speed and accuracy. You can manage your tasks better by keeping track of your time in detail. This involves not just project-level tracking but also knowing how much time was spent on each activity inside a project. It includes tracking the status of each activity to check and verify that it meets its deadline and does not impede other projects that rely on it.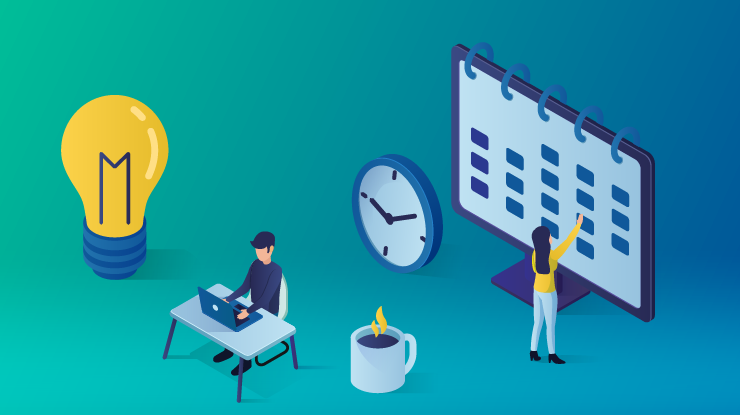 It's nearly hard to keep track of these things when your company expands, and your projects increase without employee time tracking software. You may reach a point where spreadsheets and pen and paper are no longer enough. There are software options that track time for you at a cheap or free cost. These monotonous activities can be made simpler and streamlined with other applications for the overall successful operation of your organization with the assistance of useful employee timesheet software.
What is Online Timesheet Software?
Timesheet software is a type of digital application that tracks and records how much time an employee spends on tasks and projects throughout a given period of time. Online Timesheet enables an employer to keep track of how many hours an employee has spent working. Businesses use them to get an idea of how much time is spent on activities, projects, and clients. Employees can easily enter and monitor time with timesheet software, which organizations can ultimately use to pay them. An Online timesheet software is designed to make time tracking easier. Therefore, it has user-friendly interfaces, simplicity, and in-depth data analysis.
It's also known as the "budget of time management" since it contains all your company's time management information. Timesheet software is classified into two types: basic applications that focus on time monitoring and full project or task management systems that include a plethora of capabilities.
If you're tired of the mundane process of manual time tracking, you're not alone. Keeping up with projects and employee hours is a challenge faced by many businesses. The good news is that the right timesheet software can automate the entire process and boost productivity across the board.
Advancements in budgeting and financial software have made it easier than ever to manage your team. It's crucial to find the best online timesheets for your brand's unique needs and challenges.
To help you find the perfect fit for your business, we've compiled a list of the 15 best online timesheet solutions on the market.
1. Clockly
Clockly is one of the best online timesheet and employee monitoring solutions on the market. Its easy-to-use, accurate, and detailed timesheets allow you to view billable hours and projects and sort all the data by employee or date range. It includes activity screenshots, GPS tracking, URL & Apps tracking, and more. Clockly is even compatible with Windows, Mac, & Linux!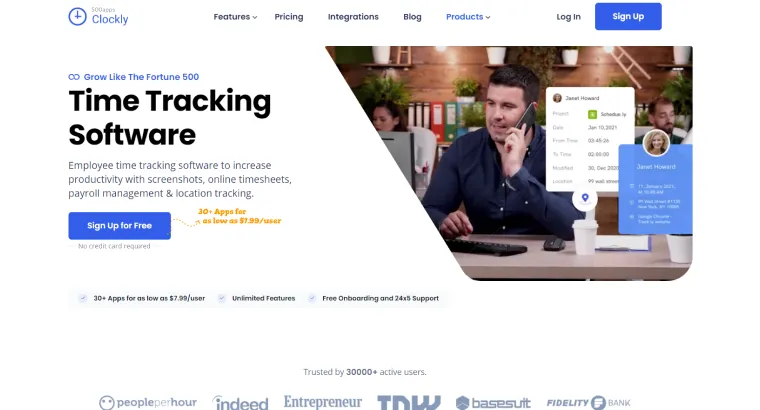 2. Hubstaff
Hubstaff is an easy-to-use employee time tracker that's loaded with features. Hubstaff provides screenshots, timesheets, billing solutions, and in-depth reports. Its online timesheets help you keep track of employee hours with desktop and mobile apps. It combines tracking, billing, and payroll, helping you create the best online timesheets with the most accurate data.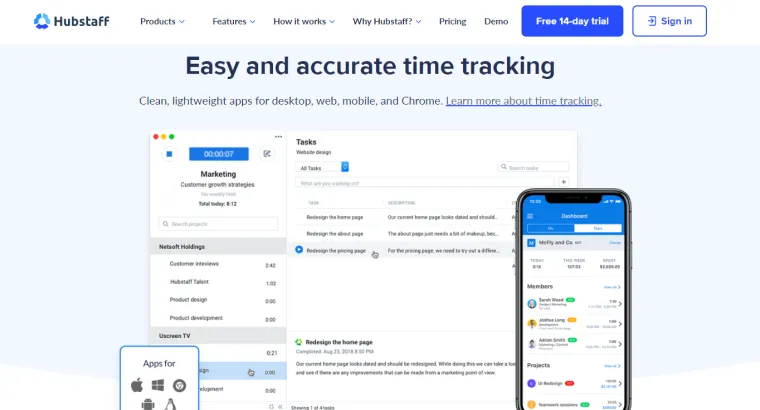 Hubstaff offers a forever free plan, as well as several paid levels.
3. ProofHub
ProofHub is a project management and team collaboration tool that also offers a timesheet feature. The Timesheet feature has been designed for businesses looking to improve efficiency, productivity, and minimize time wastage. The online time tracking tool lets teams set time estimates, track time spent on a task, and maintain a record of every minute spent working on different projects.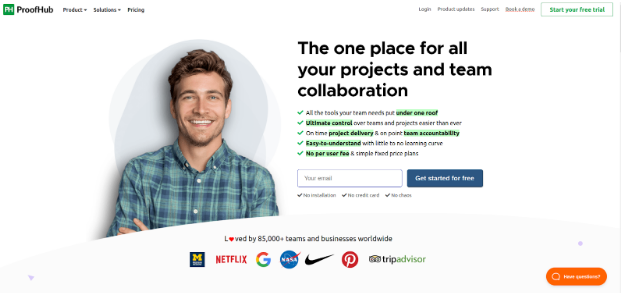 Subscription to ProofHub starts at $45 per month with unlimited users.
4. Timesheet
Timesheets allows you to record your hours with the simple push of a button. What's more, you can manage project time and export hours to excel and other apps. One of the top online timesheet solutions, Timesheet allows you to easily add breaks, expenses, and notes, all from one centralized location.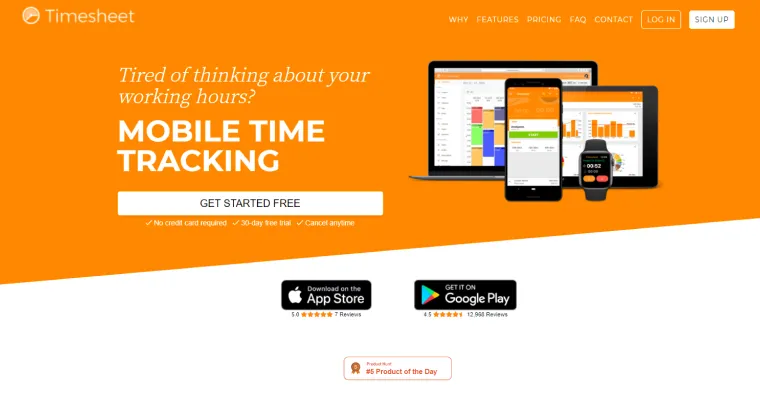 Timesheet offers a free basic plan, as well as several paid levels.
5. Toggl
Toggl offers three tools to boost productivity and optimize marketing and sales campaigns. Among its powerful features is one of the best online timesheet solutions on the market. Toggl's solutions are designed for ease-of-use, so their time tracker is easy to master. Send email reminders to employees to track their time or hit their targeted hours, set required fields so information is correctly submitted, and schedule alerts to stay within budget, all from fast, sleek dashboard.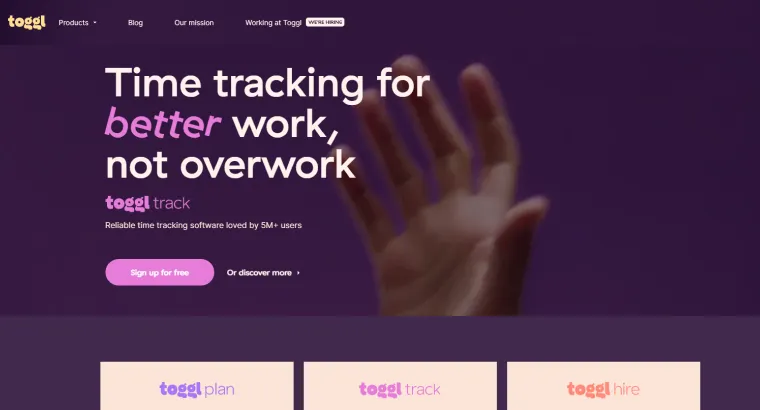 Toggl offers a free trial for all three of their solutions, including Toggl Plan (for project management and planning), Toggl Track (for time tracking and online timesheets), and Toggl Hire.
6. TSheets
TSheets by Quickbooks automates time tracking processes to offer some of the best online timesheet solutions for brands looking for a simple design and easy-to-use interface. TSheets includes a digital time clock solution and a mobile app, among other useful features.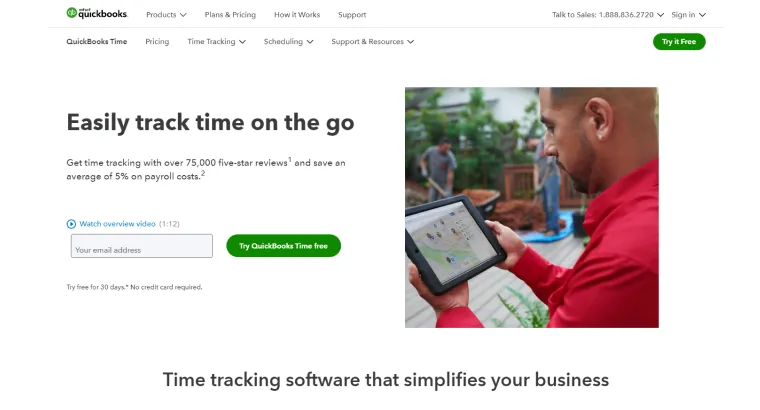 TSheets offers a 14-day free trial for both their Elite and Premium plans.
7. Harvest
Harvest offers time tracking, reporting, and investing solutions for a variety of industries. Harvest makes it easy to track time and expenses, allowing you access to critical data and create professional invoices in minutes.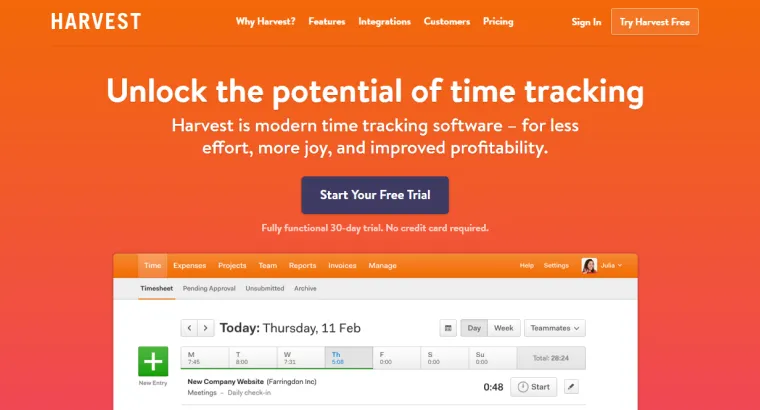 Harvest offers a forever free plan for individuals with up to two projects. From there, Harvest charges customers by the seat (user).
8. Timesheets
Timesheets is a software for time tracking for employees and also features GPS for mobile devices, expense tracking, and HR management. It has a robust time reporting feature with over 50 customized reports to help you gain control of payment and billing.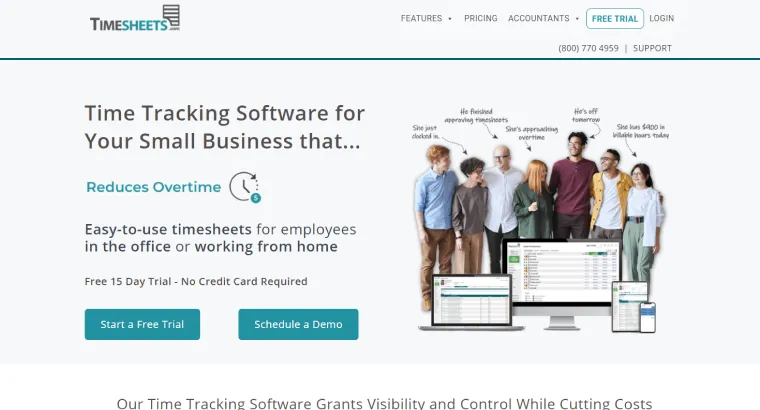 Timesheets offers a free trial, as well as a forever free plan for freelancers. Paid plans start at just $3.60 per user.
9. Everhour
Everhour is a software for time tracking that also includes budgeting, scheduling, expense tracking, and reports. Create more accurate and less time-consuming timesheets with its time tracking timer as you work on projects.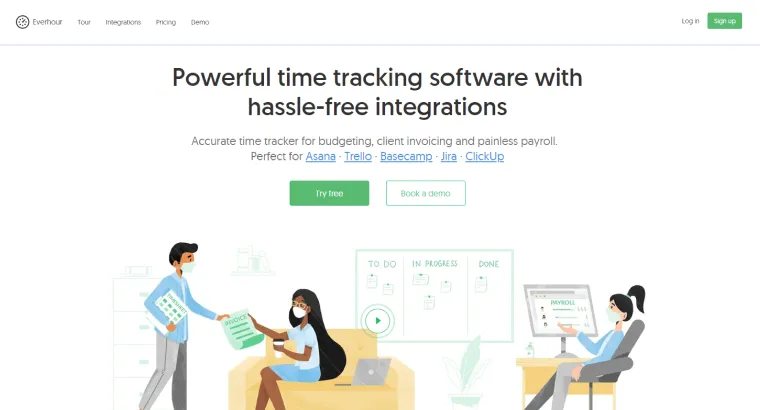 Everhour offers a free 14-day trial as well as a free plan for small teams and freelancers.
10. Zoho Projects
Zoho Projects is an online project management software to create and manage projects efficiently. It allows you to log billable and non-billable hours with the timesheet module, either manually or automatically with timers.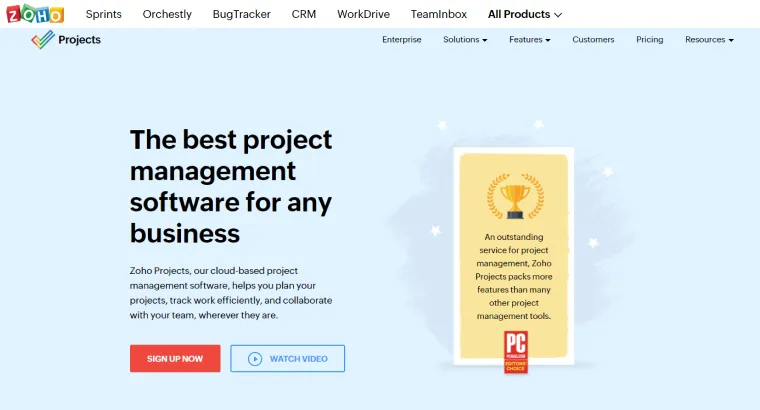 Zoho Projects offers a free 10-day trial to their paid plans, as well as forever free plan for smaller teams and individuals.
11. Scoro
Scoro is business management software that brings teams, projects, sales, and reports together. It features work scheduling and tracking allowing for quick overviews of your team's time, including their calendar and completed tasks.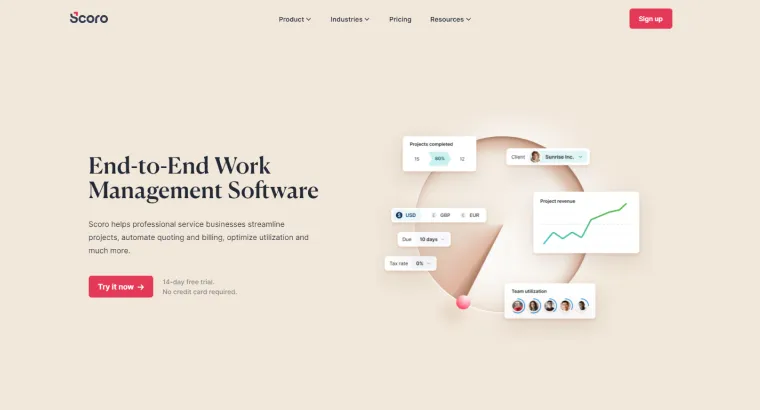 Scoro offers a free 14-day trial with access to all of their numerous features. Paid plans are somewhat complex.
12. BeeBole Timesheet
BeeBole Timesheet is an easy and flexible timesheet app that helps brands keep track with daily, weekly, and monthly timekeeping, among other features. BeeBole Timesheet allows for time tracking, rate setting, budgeting, and powerful reporting.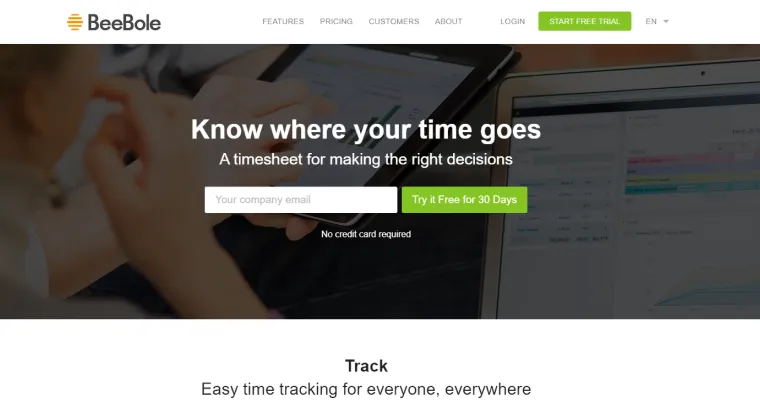 BeeBole Timesheets has some of the simplest pricing of any app on the market -- $5.99 per user and a free 30-day trial. Simple as that!
13. Avaza
Avaza is another all-in-one HR and project management software for professional teams. It now offers online timesheets with time tracking, allowing you to track time by task or project.
Avaza has a forever free plan for smaller teams and freelancers. They also offer the option to upgrade at any time.
14. Replicon
Replicon is an all-in-one time tracking solution for projects, billing & attendance, time tracking, time off, expenses, and much more. It boasts one of the best online timesheet solutions on the market. Automated features capture and track time with both pre-built and custom templates.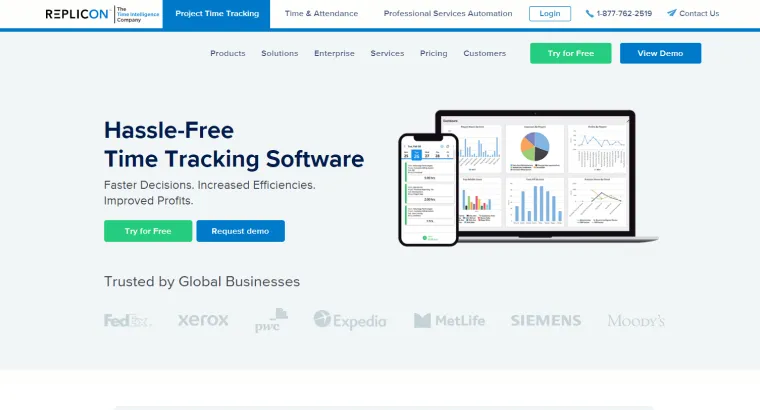 Replicon offers a wide variety of powerful features and paid plans.
15. ClickTime
ClickTime offers an easy way to track, manage, and report on employee time with simple timesheets and powerful reports. It includes an employee timesheet app to make online timesheets easier for your employees. The app is intuitive and easy to review and edit entries from anywhere.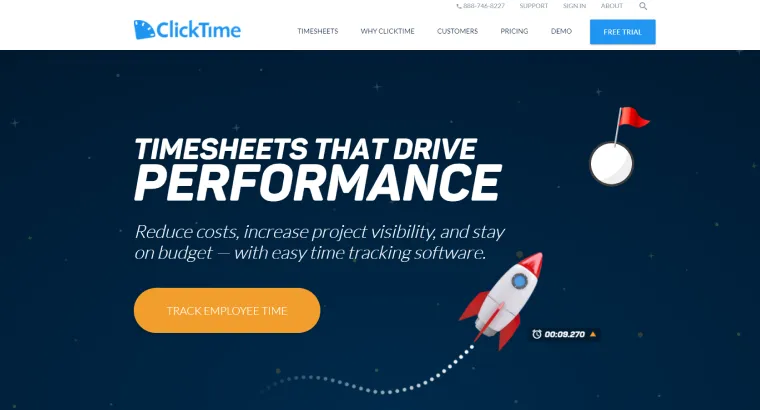 ClickTime offers a free trial, as well as several paid plans.
16. Paymo
Paymo is a work management platform that includes many features that help your business manage its workforce, including online timesheets. Paymo's timesheets offer a calendar view of timesheet data and allow for drag and drop actions to add and move time easily.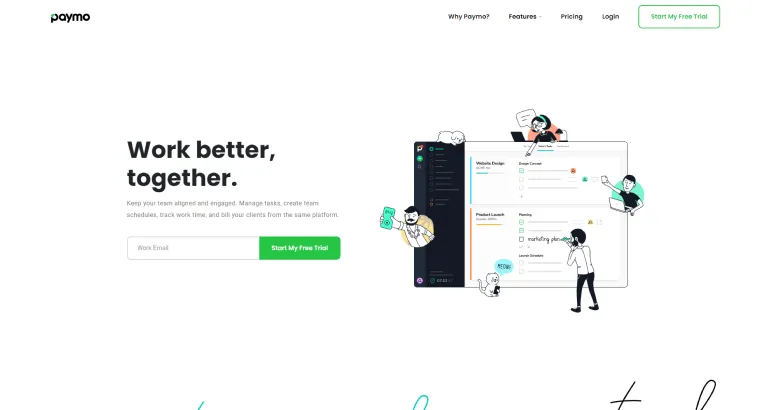 Paymo offers a 15-day free trial, as well as paid plans for businesses of any size.
Conclusion
Time management is crucial. If you don't properly manage the small amount of time you do have, you'll always feel like you're fighting an uphill battle.
Online timesheet software with a time tracking software can help you keep track of the time and money you're spending on projects, as well as the resources you invest into your business overall. Additionally, the best online timesheet solutions provide a secure means by which you can store sensitive data as well as features that help track and optimize your brand's performance across the board.
Eliminate Tedious Paperwork and Better Manage Online Timesheets Using Clockly Sign Up 14-day trial
However, software can only go so far. It's up to you to stay up-to-date on time management best-practices.
Whether you are just starting out or you've been in business for generations, implementing an effective online timesheet software can propel your brand to new heights by streamlining your workflow and giving you more time to focus on growing your business.
Discover Why Clockly Stands Out
#1
Get an instant preview of employee activities - timesheet, keystroke & mouse click logging
#2
Monitor in real-time by automatically capturing screenshots of employee's screen
#3
Take control of employee work hours for better project planning
#4
Utilize the project management functionalities to deliver your projects on time
#5
Add unlimited projects and manage all in one place
#6
Customize the screenshots interval and mouse / keyboard activities
#7
Integrate with popular project management tools such as Projectsly
#8
Automate payroll & expense claims with the online time-sheets
#9
Unbelievable pricing - the lowest you will ever find
#10
Everything your business needs - 50 apps, 24/5 support and 99.95% uptime
Join the SaaS Revolution
All-in-One Suite of 50 apps

Unbelievable pricing - ₹999/user

24/5 Chat, Phone and Email Support