How to Use Time Tracking Software to Track Project Expenses
If you ask a hundred businesses owners their biggest headaches. Money will be a common denominator. As a business person, you will constantly worry about money.
If you ask a hundred businesses owners their biggest headaches. Money will be a common denominator. As a business person, you will constantly worry about money. Questions like why do you not have enough of it? How to make more? How can you ensure that the one you have to hand cover your business expenses? And so on. Because money is a limited resource, every business or project must have a budget, no matter how small or big.
You have to know how much to pay your staff, how much to pay for raw materials for your product, how to pay for your property, how much profit the company has/will have, and so on. More importantly, it would help if you tracked those figures as much as possible, or else your business will run at a loss and collapse. There is also the danger of going too far under budget and not getting the project done to your satisfaction.
Because you are only human, it is impossible to remember every single thing that you spend money on. Even if you are somehow able to remember every single expense, other members of your staff/team can incur costs without you being aware of it. You can save yourself the trouble of being a human-computer by using a time tracking software to manage your budgets.
A good software for time tracking will help you with the following:
Track your project budget A good project budgeting software can help you track your project and every penny you have spent on a given project. Many budget tracking software gives you a customizable dashboard, where you can create as many fields as you require. That way, you are not only able to monitor your income and expenses, you can also keep everybody who spends money on your team in one place. It is then more accessible for you to know how your project is performing financially
Create Better Budget Estimates With a good budget tracker, you can have a reasonable budget estimate for your project. Since you have records from the previous project in the software, you can then tell how much the project would cost. It will help you to make more accessible and better financial decisions. Even if you go over budget, you will find out when, where, and why.
Automate your budgetary processes Small business owners have nothing more exhausting than calculating accumulated expenses over a given period. Whether you wish to track your payments over a short period such as a week or an extended period like a year, your software for time tracking automates the whole process, such that instead of you going through the process of adding and subtracting numbers yourself, you can feed the numbers into the tracker. It will deliver your complete financial statement based on your parameters.
Make budget collaboration easier For big businesses, for example, or startups whose staff cut across different cities or even other states. You would have up to a whole team of ten or more people managing your finances, especially if it is a multi-stage project or has many parts. You no longer need to have everybody in one place to harmonize expenses and income. Instead, every member will have access to the dashboard wherever you give their accounts.
Using Clockly Time Tracker App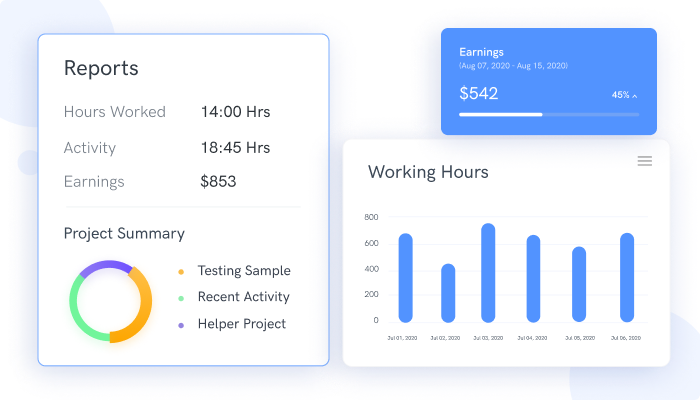 Time tracking software, Clockly is one of the most useful apps for tracking budgets and general financials. In addition to tracking your daily, monthly, and even yearly expenses, Clockly has a dashboard that can be available to all your staff and team members wherever they are. It can also create estimated budgets for new projects based on the parameters of current budgets. And many other significant functions. Money can be a worry for businesses, but it does not have to be part of yours. So get online on the Clockly app today and ensure that you do not have to spend the time to think of constructive ideas for your business worrying about money.