Employee Productivity Tracking Software Importance in Business
Employee time tracking is an unavoidable component of every company's productivity. However, manually tracking the time spent on projects is time-consuming.
Therefore, Employee productivity tracking software is one of the most extensively used programs for efficiently managing businesses or projects. Many industry sectors, freelancers, and companies believe that using this software helps them manage their businesses more successfully. In fact, 74% of the businesses spend 8 hours tracking their employees every two weeks.
This article looks at how employee productivity tracking software works.
What Is Employee Productivity Tracking Software?
Employee productivity tracking software is a well-designed, built, and automated solution for tracking employee activities and producing detailed employee productivity and activity data.
Project managers and company owners track and record working hours to pay their clients appropriately based on project requirements. Employee time tracking software is used to automate the employee time tracking process. This program is particularly successful in tracking real-time work time and monitoring people to determine their productivity levels at specific time intervals.
How Does Employee Productivity Tracking Software Work?
Employee productivity tracking software has a three-step working process.
Step 1: Assessing employee productivity The software records activity, projects, and tasks in the same way team members measure time. Everyone gets complete access to their data.
Step 2: Gaining knowledge to boost productivity Detailed data and the dashboard allow you to delve into what works and where you may improve.
Step 3: Setting budgets Set client budgets and receive automated warnings as they approach. You can even view hours spent, full timesheets, and budget progress from your dashboard.
The Benefits Of Employee Productivity Tracking Software
This section highlights the many benefits of employee time tracking software.
Improved staff productivity
Time monitoring helps employees know exactly how much time they spend on each project, allowing them to manage their workloads better and remain productive while executing the allocated duties.
Employee surveillance
Many organizations have begun to use time tracking software to monitor their staff. This is beneficial for identifying areas that require improvement. Time monitoring data may also help organizations make better recruiting, firing, billing, and other choices, making time tracking apps incredibly useful for enterprises of all sizes.
Time monitoring also assists HR since it allows them to understand where each employee is spending their time so that they may assign work based on the company's objectives.
Payroll simplification
Because time trackers automatically keep the time for the employees, a firm may lower the cost of the payroll process by employing time tracking software. It is more accurate and dependable since it is error-free, instead of the manual tracking approach, which has the potential for errors. Furthermore, there will be fewer rejected timesheets, which will result in delays and issues with payroll processing.
How To Choose The Right Employee Productivity Tracking Software For Your Business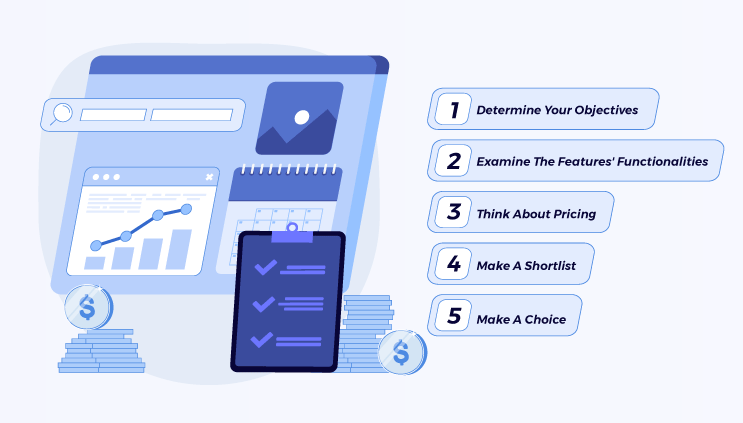 There are five key steps to selecting an employee productivity tracking software.
Step 1: Determine Your Objectives
The first step in selecting the best employee time tracking software is determining what you want from it. However, there is no one-size-fits-all solution. Therefore, you should evaluate your current processes, identify potential improvement areas, and then decide which employee monitoring program best fits your needs.
Step 2: Examine The Features' Functionalities
You must be able to assess each software's capabilities to guarantee that it meets workplace privacy and employee monitoring requirements. Consider requesting a free trial term to test and evaluate the usefulness of each feature adequately.
Step 3: Think About Pricing
Price is not a major concern when selecting employee training software unless it is out of step with the market. Nonetheless, it is best to consider the price's accessibility and the possibilities for decreasing the barrier to entry into your processes.
Step 4: Make A Shortlist
Not all employee monitoring software are created equal; therefore, make a list and compare the best 20 employee monitoring software tools.
Two features you must keep in mind while making the selection are:
Devices That You Employ Sometimes monitoring software may be tailored to specific platforms. Some are made for Windows, while others are for iOS, Android, or Mac, and you must assess them based on your needs. If your profession necessitates regular travel, you'll need an easy-to-use iOS or Android app. A powerful Windows or Mac tool with extensive features may be more useful if you operate in an office.

Number Of Employees For firms with many employees, tracking software may need to be more adaptable. This includes reporting, arrival times, working hours, shifts, and other variables. Different rules have to be established for different teams. Smaller teams can typically work successfully with standard time tracking tools. However, they need a mobile app, good data security, and compelling reporting features.
Step 5: Make A Choice Once you've found the package that meets your needs, decide what you need, including possible training, a maintenance contract, and several software copies. Request a quotation and bargain professionally to get the most bang for your buck.
Engage your staff in the solution's implementation by sharing how and why you decided on specific software. The more information you can present regarding the project's benefits and hazards, the more likely your staff will understand your choice.
Tips For Using Employee Productivity Tracking Software Successfully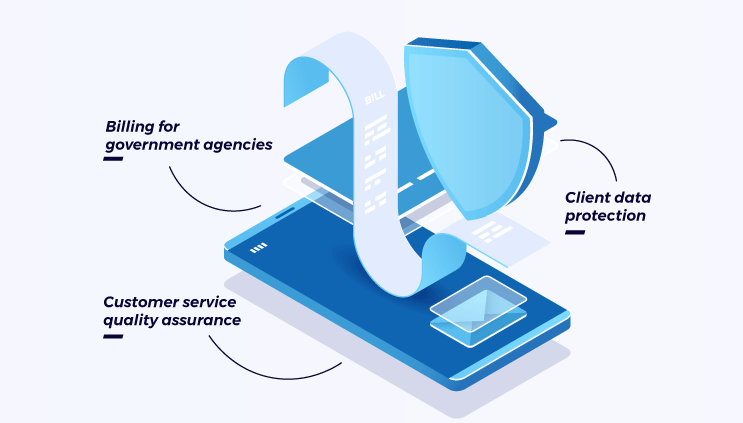 Monitoring employees isn't the sole use case scenario for employee monitoring. Other characteristics of such software have to be used to get the most out of your employee productivity tracking software.
Here are some of the most common features of employee tracking software.
Billing for government agencies: Time tracking is an efficient approach for business process outsourcing organizations, marketing consultancies, law practices, accounting firms, and other agency-based businesses to bill consumers per hour of production.
Customer service quality assurance: Employee monitoring tools aid in managing customer service representatives by recording and evaluating staff interactions. Customer service managers frequently utilize monitored conversations as coaching points when training or debriefing support personnel.
Client data protection: In other cases, this software tracks the exchange of specific files and documents to monitor what information is sent out. Managers trust these products because they eliminate the danger of data loss and attacks.
Summing It Up
This post explains how employee productivity tracking software works by utilizing its sophisticated capabilities. Therefore, always use the correct staff productivity tracking software to improve real-time productivity and overall business growth.
One such software is Clockly, developed by 500apps. Clockly is an excellent employee productivity tracking software that you can get at $14.99 per month. A key feature of this software is that it allows you to take snapshots of your employees' computer screens at random intervals to determine which programs and apps are being used and how the team's time resources are being spent. In addition to this, you can determine how much time your teams dedicate to particular tasks and projects. These indicators help ensure greater productivity and provide you with a complete picture of the job.
Discover Why Clockly Stands Out
#1
Get an instant preview of employee activities - timesheet, keystroke & mouse click logging
#2
Monitor in real-time by automatically capturing screenshots of employee's screen
#3
Take control of employee work hours for better project planning
#4
Utilize the project management functionalities to deliver your projects on time
#5
Add unlimited projects and manage all in one place
#6
Customize the screenshots interval and mouse / keyboard activities
#7
Integrate with popular project management tools such as Projectsly
#8
Automate payroll & expense claims with the online time-sheets
#9
Unbelievable pricing - the lowest you will ever find
#10
Everything your business needs - 50 apps, 24/5 support and 99.95% uptime
Join the SaaS Revolution
All-in-One Suite of 50 apps

Unbelievable pricing - ₹999/user

24/5 Chat, Phone and Email Support