5 Project Time Tracking Software to Deliver Timely Projects
We understand how annoying it is to be unable to accomplish a task within a certain amount of time. Whether you are an employee or a student, you are bound to face this situation at some point in your life. To avoid such stress on a daily basis, both employees and managers should constantly be prepared. This is where project time tracking software comes into play. It assists businesses in keeping track of their projects or daily assignments.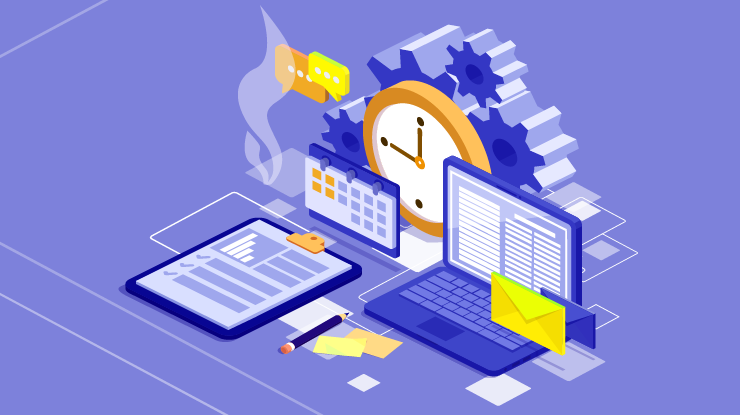 The project time tracking allows you to evaluate the accuracy of your job estimations as well as the efficiency of your personnel. Professional service providers, firms with hourly employees, and companies that interact with freelancers use this tool to keep track of their workload and evaluate their employees' productivity.
How Time Tracking Software Helps in Delivering Timely Projects?
Before diving into project time tracking, let's see what a time tracking software is. Time tracking software have become essential tools for many firms, giving leaders the information needed to ensure a smooth workflow and keep staff on schedule. With a time tracking software, you can keep track of developments in real-time and collect the data you need for project budgeting in the future.
A project time tracking software aids in determining how much time employees spend on non-project-related tasks. Analyzing the data can also provide ways for employees to better organize their days to boost productivity. The software allows you to detect inefficiencies and counterproductive practices within your firm by recording the time taken by the employees to accomplish assigned tasks and checking whether the budget is spent appropriately. Project time tracking tools enable you to maximize the productivity of your team and individual members. Timelines are set and tracked, ensuring that everyone is made liable and on the same page. Any squandered time can be easily identified and remedied, thus resulting in timely delivery of the projects.
Features of Project Time Tracking Software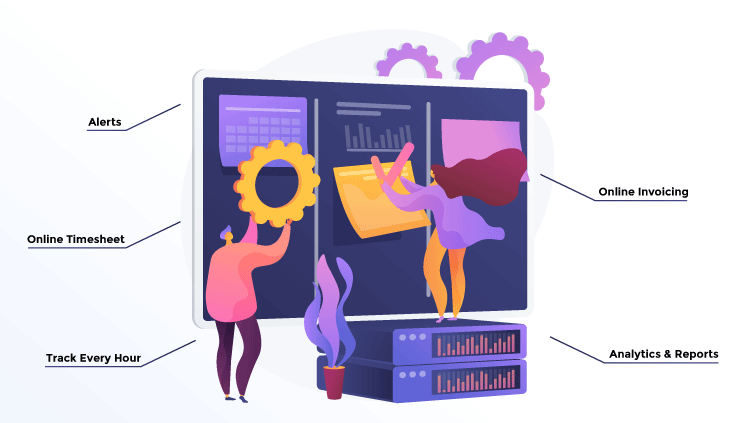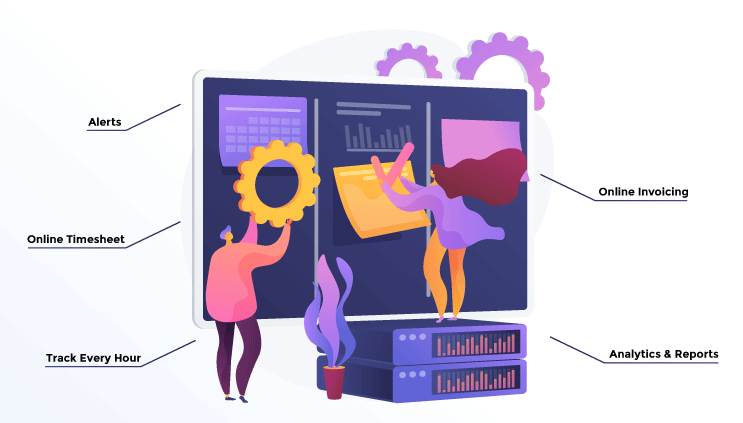 Track Every Hour
You can make your every hour count through the project time tracking software. This function captures & records actual working hours on an Online timesheet. It also allows you to view tasks, which assists managers in estimating deadlines and approximate completion times.
Online Invoicing
This function saves you time by accurately tracking your work hours and automatically generating bills based on billable time and rates. This tool provides clients with transparency and is considered a huge time saver for businesses.
Online Timesheet
Employees or freelancers can use an online timesheets to manage their billable hours, including time off, absences, and holidays. This tool helps the managers in measuring the overall productivity of the members.
Alerts
Project time tracking software notifications can be used in a variety of ways. Through this tool, businesses can send SMS or e-mail alert to remind employees about an essential or overdue assignment, or when the team is running behind schedule, and more.
Analytics & Reports
You can use this tool to assess the total time invested in a project, do budget analytics, identify cost-cutting opportunities, and instantly study a wide range of real-time data.
Ready to Time Track Projects with Clockly? Sign Up 14-day trial
How to Choose a Good Project Time Tracking Software?
There are numerous project time tracking software available in the market, each with its own set of capabilities. Selecting the correct software to meet your company's demands is not an easy task. While searching for a good project time tracking software, always consider the following:
Creating a list of the problems and obstacles your firm faces can assist you in selecting the software that best suits your needs and eliminating those that aren't.

Once you know what you are looking for, create a list of options available in the market.

To better understand the software interface, sign up for a free trial and test each app on your own.

To properly test your options, use them with your team in a manner equivalent to a real working environment and obtain feedback.

Justify and evaluate the overall cost of project time tracking software and choose wisely.
5 Project Time Tracking Software to Deliver Timely Projects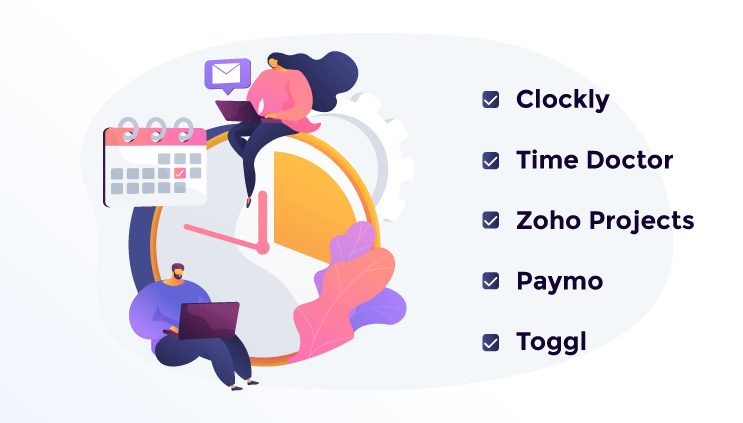 To help you save time and make your job easier, we've put up a list of the top 5 project time tracking tools that you can use to increase your overall productivity.
Clockly
Description: Clockly is a project time tracking software under the brand name 500apps that helps track the team's real-time productivity and ensures that the task is completed efficiently. It also assists with project optimization by monitoring, organizing, and scheduling tasks across the whole workplace.
The app also assists businesses in handling budgeting, payroll, and tracking every working hour of the staff. It boasts a user-friendly interface, as well as customer assistance available 24 hours a day, five days a week, with a 99.5 per cent uptime. It can integrate with project management tools or its in-built Projectsly. Clockly offer's 25+ project management tools that seamlessly fit into every workflow.
Pricing: - Clockly's pricing has a free plan with access to 37+ apps. Its cloud plan starts at ₹ 999/- per month or $ 14.99/- per month.
Time Doctor
Description: Time Doctor software allows you to track time, staff attendance, corporate workflow, and provide thorough productivity reports. It can also be linked with a variety of other apps. Flexible time tracking, project and task management, detailed reports, and payroll management are just a few of the app's other features.
Pricing: A 14-day free version (no credit card required) is available, with a premium plan starting at $7/user/month.
Zoho Projects
Description: Using the Zoho project management application, you can keep track of your project tasks, engage with your team, and follow your employees' activity in real-time. It also has other functions such as managing staff workflow, analyzing and identifying workforce productivity, work patterns, and so on. With a 'Scheduled vs. Real' work hours sheet, you can keep track of all billable and non-billable hours and enhance project estimates.
Pricing: A free trial plan with limited features is available. The paid price plans begin at $25 per month.
Paymo
Description: Small and medium teams benefit from Paymo project time tracking software. This software, like other software, allows you to track real-time employee actions, monitor your whole workforce, create valuable insights in pie and bar charts, and share real-time data with your team and clients. It also aids in the monitoring of expenses and budgets, as well as resource and project management, thus making work easier & faster.
Pricing: Free plan is available for personal use. The starter plan for freelancers starts at $4.95 per user/month.
Toggl
Description: This software is a good match for freelancers, consultants, and businesses. This application can link with over 100 management and invoicing apps, measure how much time employees spend on websites unrelated to work during their work hours and generate detailed data to plan workflow and future reports.
Pricing: A free plan with limited functionality is available. The premium plan starts at $10/month.
Summing It Up
Every company is unique, and so are its requirements. Before you choose any project time tracking software, it is imperative to consider your company's needs. You may get started with project time tracking by using any suitable tool from the list described above. For instance, you can sign up for a clockly free trial. With its unmatched time tracking and monitoring features, clockly can instantly enhance your overall project delivery, ushering your business to greater heights.
Discover Why Clockly Stands Out
#1
Get an instant preview of employee activities - timesheet, keystroke & mouse click logging
#2
Monitor in real-time by automatically capturing screenshots of employee's screen
#3
Take control of employee work hours for better project planning
#4
Utilize the project management functionalities to deliver your projects on time
#5
Add unlimited projects and manage all in one place
#6
Customize the screenshots interval and mouse / keyboard activities
#7
Integrate with popular project management tools such as Projectsly
#8
Automate payroll & expense claims with the online time-sheets
#9
Unbelievable pricing - the lowest you will ever find
#10
Everything your business needs - 50 apps, 24/5 support and 99.95% uptime
Join the SaaS Revolution
All-in-One Suite of 50 apps

Unbelievable pricing - ₹999/user

24/5 Chat, Phone and Email Support